Dan's Data letters #111
Publication date: 15 June 2004.
Last modified 03-Dec-2011.
Xbox brainpower?

I was wondering if you knew whether an Xbox with a hardware "enhancement" running Linux would have the grunt to play DivX/XviD movies... erm, home movies. Of weddings and stuff, that I put in DivX format to save space.

Chris
Answer:
Yes, it should be fine, at least for all but the highest data rate video files (which, these days, pretty much only means high definition demo clips; even DivX-encoded HDTV video should play OK).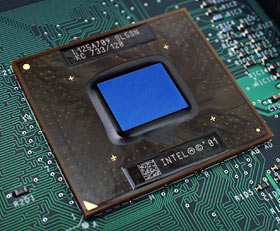 The Xbox CPU is a 733MHz pseudo-Celeron - it's a P-III based chip with 128 kilobytes of L2 cache, like the rest of the pre-P4, post-P-II Celerons, but it's got a 133MHz Front Side Bus (versus 66 and 100MHz for the true P-III-era Celerons) that gives it a little more pep. As a result, it's only barely slower than a true 733MHz Pentium III, and eminently suitable for media centre duty.
DivX/XviD/whatever movies vary in their computational requirements, and there are always new codec variations coming out, but you're generally likely to be OK for straight playback purposes with anything from about a 600MHz P-III on upwards. So a modded Xbox should cut it. Don't expect to be able to do much at the same time as playing back the video, but for video alone you ought to be OK.
Note that if you decide to play with resolution upsampling, filtering, or video capture and/or encoding, the Xbox CPU will probably be decidedly inadequate.
Mi|ldly| ann|oyin|g

I have an old 1.2GHz Athlon T-Bird and a decent ASUS motherboard to get it ticking. There's a GeForce 2 MX in the AGP port, but I also have an old ET6000 in one of the PCI slots. Now, I can get dual monitor support to basically work fine under Linux (with XFree86) and Windows, save one problem. If both monitors are set at the same refresh rate (85Hz), I see fairly large, faint, bars on each screen. The left monitor has this bar moving bottom-to-top, whilst the right monitor has it moving top-to-bottom.

I discovered that changing the refresh rate, even by a few Hertz, mainly eliminates the problem. If you concentrate and look hard, you can still see scanning of the type I mentioned, but it's much less noticeable. Initially I suspected that it might have something to do with interference between the monitors (side-by-side on a desk). Recently, my mate suggested it may be to do with how the human eye sees each screen refreshing, and that I'm probably just observing the monitors refreshing out of sync.

Ideally, I'd like to have both monitors running at the same refresh rate, simply because it's difficult to get the contrast and brightness of the monitors to match when the refresh rates differ.

Adrian
Answer:
It sounds like inter-monitor interference, caused by the fact that the refresh rate for the two screens isn't actually quite the same - one video card's 85Hz isn't quite the same as another's.
This will, I think, happen no matter what resolution you select, as long as you select the same refresh rate; different resolutions at the same refresh rate give quite different horizontal scan rates, but the vertical magnetic oscillation that causes the electron beam to paint the screen will be the same at 85Hz for any resolution, and that's what's interfering.
The divergence from the nominal refresh rate can be fairly large; my monitor reports that, as far as it's concerned, the "85Hz" signal it's currently getting is actually refreshing at 85.8Hz. Even if one screen's 85.2Hz and the other is 84.8Hz, though, you'll still get a 0.4Hz beat pattern between the two of them that'll manifest as a faint vertical rolling bar. The further the monitors are apart, the fainter it'll be. Apart from that, nothing but changing the refresh rates far enough away from each other that the beat frequency is high enough to make the interference bar roll too fast to see will solve the problem.
This problem goes away, of course, if one or both of the screens is an LCD, or perhaps a particularly well shielded or particularly low-emission CRT.
Cooler choice

Hey I read your "what to write in the email" it ain't $100 from the sky but $20 from my credit card ain't to bad. I'm deciding between the "Thermaltake Volcano 7+" or this "Ultra All Copper CPU Cooling Fan", for my 2.1GHz Athlon. Which do you think is better?

Jake
Answer:
I don't recognise this precise cooler, but that's because it's a quite generic modern thin-fin copper heat sink. You can find those for sale under various brands (Vantec, Bitspower, OCZ...). I don't know how many actual factories are behind these numerous products, but I'll bet you it's not as many as there are brands.
Most of them have 60mm fans, some have 80mm, only a few have 70mm like this "Ultra" one and the Volcano 7+.
At full power, I'd be very surprised if the 7+ didn't beat the "Ultra" cooler by a significant margin - but it's really loud then. At medium power, the Thermaltake will probably still win by a bit, or might not; it'll probably still be a bit louder than the Ultra's 2.4 watt nominal fan, and I'd expect it to perform better, but quite small differences between coolers can make more difference than you'd think, which is why I have to test the things. At minimum power, the V7+ probably doesn't work as well as the Ultra, but it'll be quieter.
More disc silos

You've done some stuff lately on optical media and how to organize all the discs that pile up. Everything USB has a story up right now on a new way to do it.

Ted
Answer:
Imation's Disc Stakka is not a new idea; it's the same sort of thing as the Dacal CD Libraries I've reviewed in the past (here and here).
The Imation gadgets have less capacity than the Dacal ones (100 discs instead of 150), but they may have better support; Dacal don't seem to be too good at replying to e-mails, let alone fixing problems.
The price per disc stored of the Imation solution is a bit higher than the Dacal one, but it could still be worth it for people who actually need that many discs online. I still think that archiving the discs in a cupboard and putting the money into hard drives to store the data from them is likely to be a better solution for many people, though.
Portable watts

Up in Canada the national home/auto/tool store (Canadian Tire) has started selling the "Motomaster Eliminator 1,200A PowerBox". Best as I can tell, it's just a heavy duty battery/charger/inverter combo strapped to a hand cart so you can actually move it. The specs are listed on the page but to sum up, 120V/12V power options (Canada uses 120V mains), 1200W capacity (no mention of surge capacity) and a 60Ah sealed battery.

Is it worth it? It lists for $CA250 (if memory serves, the Aussie buck and the Canadian tend to pace each other pretty closely). Certainly one can buy a battery, inverter, and charger for less, but can one save any significant money this way, and/or get significantly better kit for the same price?

Johnathan
Answer:
The specs on the Canadian Tire site are incomplete, and I can't find this gadget better described anywhere else. No inverter has a wattage rating; presumably this is actually a 1200 volt-amp (VA) unit. If that's its continuous rating, then it could run 840 watts of power factor 0.7 loads (like PCs), or 1200 watts of power factor 1.0 loads (like incandescent lights), et cetera (I explain this in more detail here).
But the quoted number might be a surge rating; at that price, I wouldn't be surprised. A 1000VA (continuous) modified square wave inverter that costs only $CA300 (which, as you say, is about the same as $AU300) is a pretty big bargain. This is supposed to do 1200 something-or-others, and includes battery and charger and cart as well. So something don't add up, here; it's too much of a bargain.
Also useful for making coffee

I'd like to build a PSU tester. Test each rail individually and concurrently to find the REAL ratings, and of course try to find their reliability by running them at their limits for a few days (not a substitute for normal loads under varying conditions for several years, but it'll do). Unfortunately I'm not a great electrician. I understand the basic theory behind what I want to do - create a circuit for each rail with variable resistance (that is measurable). But I have no idea what to do in the real world practical sense. I don't even know where to start. Possibly at Jaycar.

I've seen this, and then thought - how in the hell did they make that? They must have etched their own PCB, gone to a lot of trouble...

And so I email you. King of all things that go buzz in the night. This is probably not a small ask, but I ask anyway - how would I go about this?

Jack
Answer:
You could make a rat's-nest version of the Tom's Hardware tester without going to the same trouble; as long as you used a few parallel paths for testing the high current rails, you could connect everything together in various configurations with chunky banana-plug leads, or spade-lugged cables on hefty terminal strips, or some similar caveman lots-of-metal distribution arrangement, and get decent results.
The input connectors are all pretty standard items; a dead motherboard can donate the ATX, ATX12V and AUX sockets, and "Molex" and floppy power connectors are similarly easy to come by.
If you want more elegant switching, since the voltages involved are safely low, you could use good old fashioned unguarded knife switches. They're not commonly available any more, though, since the animating of dead flesh by the power of lightning is no longer in vogue.
Switching aside, the tester you want to make is essentially, of course, just a fairly freely configurable collection of low value, high power resistors. The currents involved are pretty impressive, as is the heat the resistors will need to dissipate, but electrically it's all very simple - basic V=IR calculations to tell what resistance you need to put across each rail to load it up close to its rating.
You can make the kind of resistors needed yourself, out of nichrome wire. Many electronics stores carry nichrome - Jaycar do. Wind the wire on a suitable former, like for instance a ceramic flower pot, and you're in business.
It's quite easy to get exact resistance values this way, and nichrome wire doesn't change resistance much with temperature. It has a positive temperature coefficient of 0.00017, so if you make it 100 degrees C hotter, it's resistance will be 1.7 per cent higher. If you want to keep the resistance more stable, you can water-cool the resistors easily enough (tapwater will do fine).
You can also buy big power resistors off the shelf; they're easier to deal with than a gimcrack home made version, and may hold their value better at different temperatures too.
Most Australian electronics stores don't carry low value, high wattage wirewounds, but this place does. Their site's clunky, but you can't have everything.
Battery boiling

I'm getting back into R/C cars after 20 years and have bought a hand held glow heater with a C-size NiCd of 1800mAh capacity. Also a NiCd charger explicitly for the heater, which runs from 12v. I've found an old 12v 6.5Ah gel-cell battery, and I have a gonzo 6.2A 12V charger for my full size 4WD diesel's battery. Will I kill the gel battery if I try to charge it with the 12V charger, or will it just take only about an hour to charge?

Graeme
Answer:
Yes, you'll kill it. Cheap automotive lead acid battery chargers expect to be feeding a big robust liquid-electrolyte battery; that's why they have those big current ratings printed boldly on their casings. A six-amp-plus charger will, if you're lucky, only set fire to a cheap SLA brick.
You can get quite smart "wall wart" chargers that suit lead acid batteries of all sorts for decent prices now. This one, for instance, is suitable for every 12 volt lead acid battery from a small SLA to a giant traction battery - though it will of course take a rather a long time to fill a big 500Ah car battery.
Or maybe just lots of sparklers

I've watched a lot of tapes of shuttle launches. When you see the shot of the engine nozzles, there is a spray of orange sparks right before the engines fire. Now I assume that the engines light themselves, since they must for de-orbit burn. Are these sparks for burning of, perhaps, excess fuel before ignition?

Rich
Answer:
Yes - they're stray gas igniters, that mop up any loose hydrogen that's been burped out into the well under the launch pad by the Shuttle's oxy-hydrogen main engines before ignition.
(And, as a reader just pointed out to me, the main engines don't fire for the de-orbit burn. They can't, because their fuel comes from the big under-belly tank that the Shuttle doesn't take with it to orbit. The Orbital Maneuvering System Engines are what the shuttle uses to de-orbit.)
Do not charge from cigarette lighter

I thought you might find this interesting. I am amazed that 6000 AA batteries could get a car up to 245mph. Would lithium ion be lighter, and better?

[yet another] Dan
Answer:
No, because lithium ion batteries don't like delivering a whole lot of current. NiMH has much better current delivery ability - actually, good old NiCd is still the king in the harsh-charge-and-discharge-cycle department, but presumably the weight advantage of NiMH put it ahead for White Lightning. And for White Lightning II, which uses sub-C NiMH cells. Actually, I think that's what the first White Lightning used, as well; New Scientist screwed up when they said they were AAs. Sub-Cs are the standard cells used in many cordless tool and R/C model packs; they're significantly shorter and narrower than full C cells, but they're nothing like AAs.
The car this piece is about is powered by lead acid batteries, which seem to me to be an odd choice, even for a speed record car; weight isn't such a big deal for speed record attempts, I suppose, since acceleration and handling aren't very important.
But what do I know. There's plenty of precedent for lead acid power in extreme electric vehicles. The world's fastest electric drag bike is lead acid powered, though it doesn't use the off-the-shelf batteries in the Primetime car. The present US National Electric Drag Racing Association ET record holder is Current Eliminator IV, though, which is powered by regular deep cycle lead acid batteries; various other hot electrics (like this one) use lead acid, too.
Price probably factors into the equation, here; lead acid is substantially cheaper per stored joule than NiMH or NiCd.