Atomic I/O letters column #134
Originally published 2012, in
Atomic: Maximum Power Computing
Reprinted here October 2nd, 2012 Last modified 16-Jan-2015.
Rectangular snow

I was playing Skyrim on my Core i5, 3Gb RAM, HD 6870, 64-bit Win7 PC, and suddenly got a weird graphics glitch - little grey squares all over the place. They move when I move, but apart from that they don't seem very well "attached" to anything.

See attached picture, with bonus invisible axe! (Is that in some way connected?!)

Hamish
Answer:
The first thing I thought of when I saw the little squares was bad, or excessively overclocked, graphics memory. Little dancing dots are a classic symptom of that.
Those video RAM glitches show up as single pixels, though, and these grey squares are way bigger than that. The problem actually turns out to be the version 12.3 Radeon driver, in which turning on anti-aliasing in Skyrim's launcher options creates little squares in a variety of colours. Turning off anti-aliasing in the Skyrim launcher and turning it on, for Skyrim, in the Catalyst control centre software, should get you past the glitch without subjecting you to jaggy edges.
(There may have been a driver update that cured this problem by the time this column was published in Atomic. As I write this, the driver's up to version 12.8.)
The invisible axe isn't a hardware, or driver, problem. It's just one of the slight imperfections in Bethesda games that are evidence of their handcrafted nature. From The Makers Of...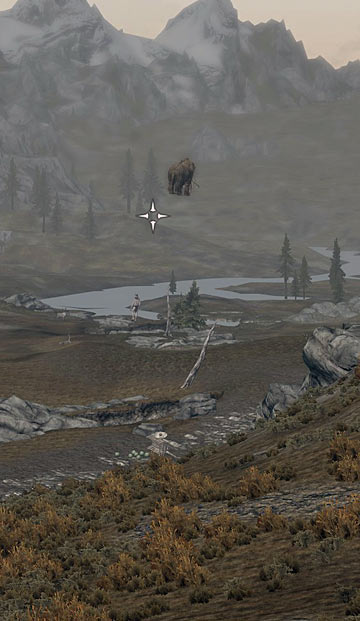 Levitating Mammoth!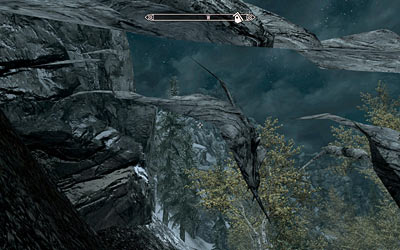 Partially See-Through Boulder!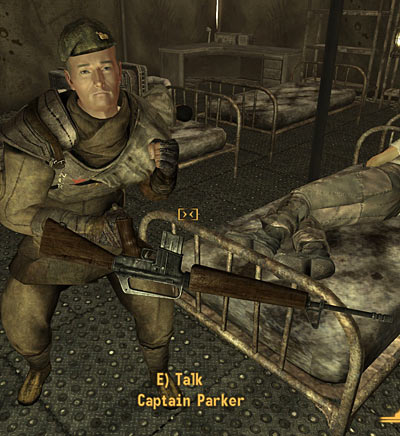 Inverted Firearm!
Invisible Typewriter!
Slightly-Missed Grindstone!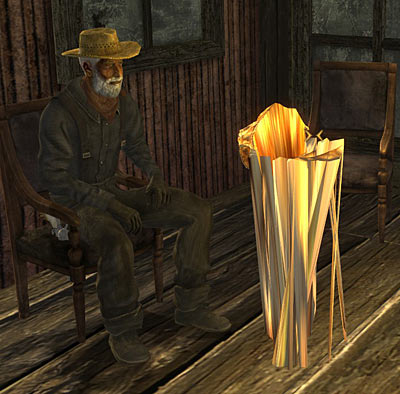 Unremarkable Stretchy Radscorpion Corpse!
Demented Stretchy Bouncy Super Mutant Overlord Corpse!
Troopers Waiting For Their President In Their Underpants!
Wandering Mannequins!
And, of course, People Stuck In The Ground!
Decrapulation 1

I need the opposite of Ninite.

Ninite makes it easy to install a long list of programs on a new PC, without having to download and install them individually.

I want a program that easily UNinstalls numerous programs, to get rid of trialware versions of Norton SystemClogger and McAfee Not As Good As Free Antivirus and so on from a new brand-name computer. I personally only have to put up with this garbage when I buy a new laptop, but everybody else in my family would still be buying Amstrad and Tandy desktops if they could. And whenever they bring home their latest bundle of bundled-software joy, I'm the one that has to shovel out the crap.

Save me!

Bertoldo

I've decided I just don't like things that start with P.
Answer:
An answer to your prayers exists, and it would be worth downloading even if it did not glory in the name "PC Decrapifier".
There's no truly perfect one-button Windows shovelware destroyer, because some people actually want some of the built-in software, and it's often difficult to tell whether a given program is the full desirable version, or the time-limited but fully functional trialware version, or the crippled useless bundled version. But PC Decrapifier does make removal of all of the little pointy software fishbones a lot easier.
You don't have to use PC Decrapifier on a brand new PC, either. It can also be handy, and has an operation mode specifically for, removing crap that you've installed yourself over the years.
Decrapulation 2

I want to reinstall Windows (7, Professional, x64) on my laptop, but without all of the Asus garbage I spent time removing when it was new. But all I have to reinstall with is a recovery-image thing that will just give me the factory garbage again.

Is the retailer supposed to provide a proper install disc along with the genuine-Windows sticker? Can I get one for free from Microsoft or Asus to use with my existing, legit, Windows key?

B.
Answer:
As per the previous letter, you could just install with the recovery image/disc (which may, by the way, format the drive or otherwise zap all of your user data), and then make the bundled-software removal process easier with PC Decrapifier.
But you could also install a clean standard version of Win7. Just download a disk image, burn it to a DVD-R and reinstall from that.
You probably already knew you could do that, but you wanted a legal option. For some reason I find myself feeling vaguely disappointed to say that this actually is, or at least can be, legal.
You can download Win7 ISOs from Microsoft, you see. Well, actually from Digital River, but they're providing the downloads legally on Microsoft's behalf. The one real advantage of Microsoft's irritating "Genuine Advantage" Copy Control Crap is that the ISOs themselves become legitimately distributable, since an image of a legit Windows disc doesn't, by itself, help you pirate Windows.
Microsoft don't seem to have a download page of their own, but there's a neat list here.
You may even be able to do it without burning a DVD, if you've got a big enough USB drive. Microsoft's "USB/DVD download tool" lets you install from a flash drive instead.
The touch of death

Is it possible to disable a (Windows) laptop touchpad while you're typing? I just cannot prevent myself from palming the touchpad accidentally and moving the cursor somewhere else in the document, or out of the document altogether. It's less of a problem if I disable "tap to click", but I still move the cursor around randomly, and sometimes I press the buttons under the touchpad anyway. There has to be a better way!

Alexandra
Answer:
There are several different proprietary touchpad-config programs that come with different brands of laptop, but I don't think any of them let you do anything more flexible with the touchpad than just entirely disable and enable it from the system tray or maybe with a hotkey. This is not a good solution.
UPDATE: After this page went up, a reader pointed out that Synaptics touchpads - Synaptics are to touchpads as YKK are to zippers - usually actually do have an avoid-accidental-activation feature built in, though it may be in a non-obvious location in the setup software. On my ThinkPad T60, for instance...
...I had to go to "Mouse" in Control Panel, then the "UltraNav" tab, click the "Settings..." button in the TouchPad section, and then select "PalmCheck" in the "Sensitivity" sub-section.
If your laptop doesn't have such an option, or is surrounded by the mouldering skeletons of those who wasted their lives trying to find it, you could try instead the inventively-named "Touchpad Blocker". It disables the touchpad entirely for a configurable length of time after any key is pressed, so the touchpad will stay disabled while you're typing.
Silent and stationary

Sometimes my Dell Inspiron N4110 laptop's fan starts running at full speed for some time. When the fan stops running, so does the whole laptop. Just hung, nothing happening, no disk activity, no errors.

Originally I turned it off after this happened and it was OK, for a while, when I turned it on again. But then one time I waited instead and discovered that after a few minutes, it comes good again by itself. Which is better than it just being broken I suppose, but still isn't making me happy.

This is probably going to cost money. That's fine. Just tell me what I need to replace. Please.

J.
Answer:
What you most probably need to replace is the dust that is clogging up the fan. Once you get the dust out, finding exactly where it came from in order to replace it accurately may be somewhat challenging. But at least the laptop should be OK.
What's happening is, something's using a lot of CPU time for a while, and the fan's running up to maximum speed, but because of dust (or other obstructions, like if you've got the laptop resting on a blanket), maximum fan speed isn't enough to stop the CPU from overheating. Since it's a modern processor, it can in extremis pause entirely until it cools off, rather than unrecoverably hang like an old CPU would. But when the CPU does that, the paused computer for some hardware reason or other makes the fan stop, so the CPU cools rather slowly.
(It is, by the way, difficult to actually overheat a CPU so much that it dies. Running the CPU with no cooler on it at all, or with the cooler mis-mounted and not making proper contact, can do it. But a completely dead fan on a properly-mounted heat sink will just give you a computer that hangs, not a computer that fries.)
The good news is that fishing out the dust will probably solve the problem. The bad news is that you probably can't just puff the dust out by blowing from outside, and will have to half-disassemble the laptop to get at the clog. Get the service manual from support.dell.com, and have at it.
To make this problem less likely to recur, try to find what it is that's using all that CPU time, and see whether it needs to be running at all. (The more the fan spins, the faster it'll inhale dust.)
My first guess would be antivirus software, but various other things can do it too. The standard Task Manager will probably show you the guilty process; download Process Explorer if you need more detail.
No config option should ever be called "Family Safety"

The Windows 7 Control Panel always has me just staring at it for a while to try to figure out which friendly category the thing I'm trying to change fits into. This might be great for people who've never seen a control panel before, but damn it, I've been learning what the Windows Control Panel's meant to look like since 1995.

Vista had an option to restore the XP-type control panel, but Win7 does not. Is there something like a hidden registry option that'll switch it back? Can you fix this with the Win7 "God Mode"?

C.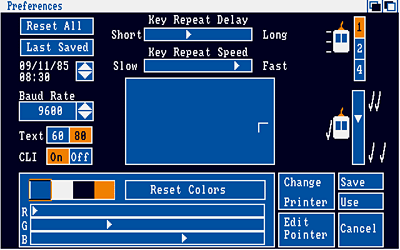 Control-panel design clearly reached its apogee in 1985.
Answer:
Nope, you can't do that.
(UPDATE: After this page went up, a few readers pointed out to me that if you tell the Win7 Control Panel to View by -> Large (or Small) Icons, you get something that pretty closely resembles the Windows XP Control Panel when it's set to view by Icons or Tiles. The categories aren't the same and there's no option for the "Details" view with a Comment column, but it's not too bad.)
What you can do is just start typing what you want to find into the "Search Control Panel" box at the top right of the window, which will give you a dynamically created list of things that match. Actually, you can usually just type what you want into the "Search programs and files" box that used to be the "Run" box at the bottom of the Start menu.
If you really want your workmates to think you're one of those computer geniuses like on NCIS, memorise a couple of the dot-msc filenames of the various "management" utilities, so you can run "diskmgmt.msc" or "services.msc" directly from the Start-menu search box instead of getting there via point-and-click from Computer Management.
"God Mode" is more correctly known as the Windows Master Control Panel shortcut, which you get to by making a folder with a lot of hexadecimal in its name. The result is a folder containing pretty much every configuration item, the thick end of 300 of them, which are blessedly both categorised and searchable.
There's no way to make the God Mode window look much like the old Control Panel either, but you may still prefer it to the standard interface.