Dan's Data letters #50
Publication date: June 2003.
Last modified 03-Dec-2011.
Acme Disc Muncher

Your page. Good.

My problem. Stupid:

Bought pack of Mini-CDRWs (Spent weeks searching on 'net for UK supplier. Found them in high-street Argos store. Now alternating between rage and astonishment.)

Now wondering how to get them into slot loading Pioneer DVD-106S without them going *CRUNCH*.

Suggestions?

Cyker

P.S. Apologies for writing style. Been playing Half-Orc in NWN too much.
Answer:
Generally speaking, it's not a good idea to use 77mm discs of any kind in slot-load drives that don't explicitly support them. As you say - crunch.
There do exist adapter rings that clip onto a 77mm disc and turn it into a standard 120mm one; they're for use in old and/or strange CD devices that don't understand CD singles, and don't have the 77mm "well" in the middle of their 120mm tray. I wouldn't be surprised if one of those let go after you'd loaded it into a slot-load drive, though, and caused even more mayhem than the 77mm disc by itself would have.
Basically, you need a compatible drive. Fortunately, slot-load drives are now largely out of fashion and tray-load DVD-ROM drives, IDE CD writers, and combo-drives that do both DVD reading and CD writing, are very cheap. So you could get yourself a compatible drive for not much.
If you've got a spare IDE controller space and drive bay, you could just add the new drive to your existing machine; it can be handy to have more than one optical drive.
Badong on

I liked your review of the Badong CPU cooling fan solution. Do you think it's possible to just use with the Badong system only a fairly powerful rear case fan and no fan on the heatsink? I'm trying to avoid using anything that moves directly on the motherboard, so as to reduce vibration/noise.

Frank
Answer:
Whether it'd work or not would depend on how much heat the processor was producing, and how powerful the rear fan was. With a top-end Athlon or P4 and a quiet rear fan, no. With a low-end processor and a 12 watt Delta screamer, yes. With mixtures in between, your guess is as good as mine.
You would, of course, have to mount the Badong's CPU cooler end onto the CPU heat sink somehow. It expects to be screwed onto a fan. You could take a busted fan and cut the middle out of it, keeping only the frame; that'd work. You could also use a fan adapter, meant to be used to attach 80mm fans to smaller heat sinks, provided your heat sink suited the smaller end of the adapter; the S-80 Badong model ought to attach OK to the 80mm end of it.
Screwed?

In your days of fiddling with stuff electrical, have you come across "Linehead" or "Nintendo" screws?

Please check these links if this isn't clear to you:

http://www.classiccmp.org/pipermail/cctalk/2003-January/015254.html

http://www.classiccmp.org/pipermail/cctalk/2003-January/015253.html

http://www.jensentools.com/product/group.asp?parent_id=53600

http://www.lara.com/reviews/screwtypes.htm

Do you know where to find resellers of these products either overseas or here in Australia? $AU70-plus for 5 bits delivered is a bit hard to take.

Sean
Answer:
None of the links you sent show what the heck a "linehead" screw looks like, and I hadn't heard the term before, but the most exotic fasteners I've seen on Nintendo things (the GameCube, for instance) are "external star" screws, commonly known to console-hackers as "Gamebit". The screws inside the GameCube are Phillips head, but the four that hold the lid on are external star. There are also tri-wing screws on Nintendo devices, often small enough that common tri-wing bits won't fit them, but you can wrestle them out with a small flathead driver without too much trouble.
If you can fit a socket driver down whatever hole your external star screw is in (you can, in the case of the GameCube), then a matching external star bit (as opposed to a whole dedicated driver) will do, as you say, but I don't know where to get one in Australia. Jaycar used to sell one that fit the 4.5mm GameCube screws (catalogue number TD2030, $AU22.50), but they don't have it any more.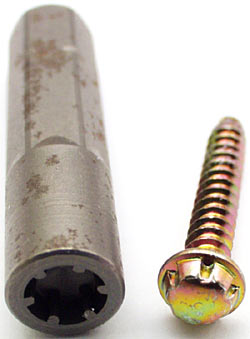 I bought one. You can't have it.
External star bits are listed as "nut setter for Nintendo" on the Lara site, but the link provided there produces no matches, so I guess they're out of stock, as well.
No matter; console specialists have them, though, as you've noticed, not terribly cheap. Good old reliable Lik Sang have Gamebit drivers in both 4.5 and 3.8mm (for N64, SNES, NES) sizes, for instance, for $US14.99 plus shipping.
Ice from fire! Or electricity! Or something!

I'm about to go camping, but I don't think I will survive long without my laptop, so I'm bringing it along. The problem is that I only own two batteries and even given the best case scenario, this is going to last about 5 hours before I'm sitting in the dark with an expensive paperweight in my lap.

This got me thinking about possible power sources I could use to charge my laptop and after discounting the car (we'll be well away from it most of the time) I started to think about the campfire as a possible source of power.

Can you think of any way, short of hauling around a steam powered generator, to produce useable electricity from the average campfire? I'm having a pleasant day-dream about unrolling a length of cable and throwing one end into the fire and plugging the other into my laptop. I can appreciate it's going to be more complicated than that, but surely there is a lot of energy coming from the fire that's going to waste. Surely there is a way to harness some of this?

Jason
Answer:
Forget it. There's no good way to harvest the waste heat. If it were easy to scavenge power from waste heat, cars wouldn't need alternators (see Letters #49).
Your best option would be a folding portable solar panel. Connect solar panel to 12 volt regulator module, connect module to 12 volt car-adapter power supply for laptop, and you're in business.
This sort of solution is reasonably portable; a folding 30 watt panel is the size of a slimline briefcase. The power module won't be big, but may be quite weighty if it includes a lead acid battery. If you're using the laptop all the time then you'll run out of power quite quickly (a "30 watt" panel will probably only deliver 30 watts at high noon when angled right at the sun), but it'll keep the laptop battery topped up OK for occasional use, and a battery-equipped regulator module will give you some extra run time.
Expect to pay $US300 or more for this sort of setup, from a place like this.
Magnetic non-mayhem

My PC is currently side by side with my TV set; my PC monitor is 2 feet away from it. I have two questions. 1. Will putting my PC near the TV damage my hard disk or other computer hardware? 2. Every time I turn my TV on, my PC monitor flickers for a second. Will this damage my monitor in the long run?

Michael
Answer:
No and no. The TV's degaussing coil creates enough external magnetic field to disturb other nearby CRTs, but not to damage anything - well, maybe floppy disks left on top of the TV, but that's about it.
The degaussing coil may also draw enough current to cause a brief hiccup in sensitive devices on the same circuit, but that's not going to cause any harm, either.
Something for nothing

Is there a such thing as a "free" office suite for Windows 9x/2K/XP? As in freeware, similar to The GIMP. I really don't have the money to fork out for MSOffice, but I'd like a word processor with a spellcheck at home, or a spreadsheet, or something. I can handle Outlook Express for email, so I'm just looking for the other bits.

Ben
Answer:
You want OpenOffice.
Word was annoying me, so I tried OpenOffice out, then discarded it when I discovered that you can have multiple views of a document, but can only edit one of them. It's not the speediest software, either. But it's worth what you pay to try it out!
Hard drive hat!

My company is doing a hat decorating contest, and I had the questionable idea of trying to get the clear-case hard drive mod that I'd created actually powered up on the hat, via batteries. Sure it's a silly contest, but it's more entertaining than doing actual work while I'm in the office.

It's a standard 3.5" IDE internal drive (Western Digital Caviar 22100 - 2.1GB), and I'd just like to be able to spin it up (and down) from power provided to the 4 pin Molex socket, without having to lug around a power supply on an extension cord. The specs on the drive indicate that the 5V rail needs 0.4A and the 12V rail needs 0.27A.

Mike
Answer:
I doubt the drive will spin up if you only power its 12V rail. If it did, then you could just splice a 12V battery (a couple of 6V lantern batteries in series would do, or eight C or D cells in a holder, or a small 12V sealed lead acid rechargeable, or ten rechargeable AAs) into a cannibalised PSU lead, positive terminal to yellow wire, negative terminal to both black wires, and you'd be in business.
Since you probably need 5V as well, though, you can either fudge it by connecting a six volt battery as well (which I don't recommend), or use a regulator. A 5V 1A 7805 regulator (PDF datasheet here) should cost you well under one US dollar from any half-decent electronics place, and will be well within spec when running a 5V rail for that hard drive, even if the drive draws 400mA constantly from 5V, which it probably won't.
The regulator will need to be installed in some kind of insulated box and given a basic heat sink, which should not be electrically connected to any of the wiring, but this is still not a major project. Connect the regulator input pin to +12V, the regulator output pin to the red wire on the power lead, and the regulator common terminal to the black wires, and away you go.
Here's a Very Basic Diagram of this.
More toys

I saw this site and thought that you would like it.

Brett
Answer:
Yes - that's an old review, but it's a good one, and the whole Equipped To Survive site is great. Not that I actually care much about most of the stuff on it, but this is reassuring (as opposed to that weird "gee, I can't wait for civilisation to crumble so I can use all this cool gear and knowledge!" vibe that many such sites have...), and the occasional gadget show overviews are neat.
Suspiciously cheap

I noticed that Aus PC Market now have a Lian Li PC-37A case, which seems to be pretty good value, and looks like it comes with the silver FDD and HDD covers, but only one fan.

I'd like to get one, but I think it's worth checking why it's so much cheaper than a PC-60ish case. Any ideas?

Shaun
Answer:
Well, it's got no fan speed control, no removable lower 3.5 inch cage (and only three 3.5 inch bays - if you need more, you could always stick a hard drive in a 5.25 inch bay with adapter rails, since you're pretty likely to have a big bay or two free...), and, as you say, only one fan instead of the usual three or four. That, plus the smaller amount of expensive aluminium needed to make the little cases and the significantly cheaper shipping costs for their smaller cartons, accounts for the difference.
Once the back injury lawsuits start coming in from people bending down to press power and reset buttons two inches off the carpet, though, Lian Li may regret charging so little for the PC-37A!
Too many FPS is barely enough

Game benchmarkers often use frame rate as a way to mark the performance of a certain graphics card on a certain game.

I do realise that most of the time, this variable is solely used for comparative purposes, but here comes my question.

As you said in one of your columns, a frighteningly large number of people sit there with their monitors at 60Hz. That's fine, they most likely do not play games, nor care about the frame rate of any games they do play.

However I know a lot of people who like high resolutions, and have monitors that are maybe 17", and can handle a res of something like 1152x864 at 70Hz. Now, If I for example had the latest Radeon 9800, some of my games would likely run at frame rates higher than 70fps. Now 70Hz means the screen is refreshed 70 times per second, correct? 70fps means the graphics card refreshes the screen 70 times per second, as well. Where the hell is the need to have frame rates for games which are higher than the refresh rate of the actual monitor itself?

I know that games are coming out which require more and more power from the graphics subsystem, but do you think there is a point where graphics cards are just going to get to their maximum potential? Or is there an infinite amount of increase in graphic quality that justifies upgrading your graphics card again and again?

Etienne
Answer:
If vertical synchronisation (vsync) is turned on, there's very little justification for a graphics subsystem that can deliver frame rates above the refresh rate. You'll get slightly more current frames now and then - you won't see the same frame twice because a new refresh starts just before a new frame is ready - but that's really stretching.
However, many (most?) gamers play with vsync off, where each new frame gets painted onto the monitor as soon as it's available, for as long as is possible before the next frame is ready. This means each actual displayed frame can be composed of horizontal stripes of more than one rendered frame. With a refresh rate of 85Hz and a frame rate of 170fps, for instance, you could have the top half of rendered frame #27361 on the top of the screen and the bottom half of rendered frame #27362 on the bottom of the screen, at once.
This can create some funny looking displayed frames, of course; it's what causes the phenomenon known as "tearing".
The further above the refresh rate your frame rate goes, the less advantage it brings. But there is justification for video subsystems that deliver frame rates somewhat above the refresh rate. It should also be noted that a really fast video subsystem will also increase your worst-case frame rate; frame rate varies with complexity of the view, and the amount of action, and stupidly fast graphics cards and CPUs can iron out the nasty valleys that can otherwise appear in the frames-per-second graph.
As regards the maximum-potential question - while we can still tell the difference between games and real life, there's still room for improvement.
Actually, there'll be room after that, as well, when unplugging our game cable from the back of our head causes us to be disappointed by the miserably low resolution and colour gamut of our boring old eyes!
Mobile profile

I have just made the big move to WinXP from WinME at home. One of the things I've noticed at my workplace is that the profile directory for different users is set up on a different partition (D drive) on the hard disk. Trying to do this at home is way over my head. How do I make XP move the default profiles directory from C to D? I made my C partition pretty small because I only expected the OS to be in there in the first place. Now that the profiles are in there, someone in my family is bound to save 3 gigs worth of pictures in their documents folder and then give me headaches when the C drive fills up.

Boon
Answer:
I think XP does this the same way as NT and 2000.
Check out this page.
I'm not completely sure that it'll work with XP as well as the earlier NT-series Windows versions, but the HKEY_LOCAL_MACHINE\SOFTWARE\Microsoft\Windows NT\CurrentVersion\ProfileList key is still there and looks the same, so I think it's a good bet.
You can also move the major space-occupiers from each profile directory (the desktop, My Documents, et cetera), one at a time, by using the TweakUI PowerToy for WinXP. The profile directory is one of the "Special Folders" in TweakUI's "My Computer" sub-menu.
Hot potato

I know this is a favourite of yours (or at least something that it seems like you always have to address) but I've been having power supply issues.

My computer has been running pretty smoothly, and solidly, for a while now, but on occasion it has problems. I built this system almost 2 years ago now, based around an Athlon XP 1600+, pretty much as soon as they were available in Australia. I've never had a lot of luck overclocking, so it's been pretty much run at the stock 1400 MHz that whole time.

My computer just shut down one time, rather suddenly, when the house circuit breaker tripped. I reset it, and everything else came back, but not my PC. I thought - ah ha, I'll bet I've blown a power supply, like Dan is always talking about. So I found the one from my previous box (same brand - Codegen), which was 250W instead of the 300W one that came with the case, installed it, and lo and behold up came the system, working fine.

A couple of weeks later, though, it happened again. And I didn't have another power supply. While stuffing around, trying to sort out the problem, I plugged the lead into a different port on the power board, and up came the system. So, given that PSU was working again, I tried the 300W one, and it worked as well, in this new plug point. So I think maybe the plug corroded or fused or oxidised or whatever with the higher voltage, with carbon stopping the connection being clean. So I reinstalled the 300W, and everything worked fine for 6 months.

Over the last couple of weeks, I've noticed my case getting hot beneath my outstretched calves (the leg kind, not the bovine sort) and MBM showed my CPU temp getting over 60 degrees regularly, up to 65 at times (this in June in Sydney). I don't remember it being this high before, and was concerned for my CPU, that maybe it needed fresh goop or something. The air coming out the back of my PC was very warm, also. More so from the PSU than the extra fan beneath it, but I figure this is normal behaviour.

Then tonight, in the middle of doing regular stuff on my PC, it just shuts down. And this time, no amount of plug swapping would fix the problem. I pulled the PSU out (pretty darn hot to touch, I might add) and put in the old 250W one.

Anyway, it has now been running fine for about 5 hours, and the CPU temp has been rock solid on 54 degrees, and the case temp at 29 degrees (down about 6-8 degrees from the old PSU). Does this sound like the behaviour of a dying PSU (heating up for a couple of weeks, then dying all of a sudden), or do you think I have some other issue?

Daniel
Answer:
It wasn't a dying power supply, per se; just a dying fan. If the air flow through the computer's dropping then it'll get warmer, and the air coming out of it will be hotter, too; there's less air coming out, which is the source of the problem, but that's a lot less noticeable than the higher temperature of what air there is.
A PSU with a dud fan is likely to drop dead after a while because of overheating, but that's a secondary effect.
If there are any unused fan mounts in the case (most PC cases can accept an intake fan at the front, and many these days can accept further fans elsewhere), install fans in all of the locations, aligning them so they line up with a front-to-back air flow path. Front fans are intakes, rear fans are exhausts, side fans are anyone's guess.
This doesn't have to be a noise disaster; super-quiet long-life 2000RPM fans will be fine.
Doing this won't necessarily save you from another dud PSU fan killing the PSU, but it should keep the rest of the computer cool if that should happen.
Lousy deals - cheap!

I realize it's not here in Oz yet (as usual!), but comparing Price Watch prices on the ATI Radeon 9800 Pro and the GeForce FX 5900 Ultra (both with 256Mb RAM) shows that the GeForce is cheaper. The cheapest ATI is $US494.50 delivered (US), and the cheapest 5900U 256 delivered is $US489 (delivery is actually more expensive on the GeForce). Part prices are GeForce - $479, and ATI - $490.

Charles
Answer:
I'd hazard a guess that when you wrote me this e-mail, the FX 5900 wasn't available in the USA, either. The cheapest dealers on Price Watch are often quite dodgy, and the cheapest dealers for hot new products are often outright rip-off artists.
The dealer you mentioned as having the (relatively) cheap 5900 Ultra didn't actually have any to sell; it was marked as "ETA June", not "in stock". The next cheapest, at the time, was $US529.50. Here's their pedigree.
The next cheapest dealer after them was only charging $US535, though, and they seem to be a real company.
The details of the pricing aren't very interesting now, a week or three later, but it's salutary to remember that new arrivals like the 5900 are often spread thinly enough that there are only half a dozen in stock at small retailers. By the time you see the ad, they're sold out, and have back orders (which the customers don't necessarily know are back orders...) for their next three shipments.
This means it's difficult to do a proper price comparison until a new product's been in the market for a few weeks, and supply and demand have settled down.
My recommendation to everyone hunting the latest brand new card at the lowest price: Just go and play RTCW:ET on a GeForce4 MX or something, until everything settles down.
Cafe Tweak

I'm assembling a public access network (cyberCafe/gaming parlour, or a PAN to those of us whom aren't challenged by thinking in acronyms) and have found that the boards/CPUs/AGP cards that I have assembled will need to be overclocked to achieve maximum utilization. My boards will allow for it (Gigabyte GA-7DXR) The processors I think will demand it (Athlon XP 2400+) and the AGP cards will tolerate it (Tyan Tachyon G9500 or G9700).

But I'm thinking that the network cards may have a hard time with a higher FSB, since the motherboards do not have a PCI lockout. The NICs I have on hand now are D-Link DFE-530TXs, which if unsuitable for the gaming machines will feel at home nicely in the surfing rigs.

Can you tell me if the Gigabyte mobos have some properties that I don't know about, which will enable me to network reliably with hopped up PCI bus speeds? Can you also ruminate on hard disk drives that will stand the punishment? (20 to 40Gb UDMA4 or 5).

Charles
Answer:
I don't think your plan is a good idea.
First up - even at stock speed, an XP 2400+ and Radeon 9500/9700 ought to provide considerably more performance than most Net cafe patrons are used to seeing.
Second - you can't expect to be able to wring more than a 20% overclock out of these CPUs. Maybe more, but it's really not likely without heroic cooling, and it's quite possible that you won't manage much better than 10%. That's hardly worth bothering with.
Third - stability is really, really important in Net/game cafe boxes. The punters won't be happy if their computer falls over in the middle of a deathmatch. Trading a bit of performance for better reliability is a good idea.
If you FSB overclock on motherboards that don't let you decouple FSB from AGP/PCI, you will, as you say, be overclocking everything, including your hard drives. Cheapo network cards may well be the most limiting factors, but if they crap out at 140MHz FSB and the video cards (for instance) only tolerate 145MHz, then swapping NICs is clearly not a good solution.
Really - forget it. If you had newer mobos that let you tweak CPU bus speed independent of anything else then it might be worth doing, but I really think you'd be better off sticking with stock speed.
NiMH peg, NiCd hole

Just a quick question for you. I've got an old NiCd charger I got from Dick Smith Electronics a while back.. Cat M9504 to be exact. :p

Anyway, I was wondering if it would be able to charge NiMH batteries? Most of the newer NiCd chargers also charge NiMH.

Vincent
Answer:
If it doesn't say that it understands NiMH, then it doesn't. Assuming it's not just a dumb timer charger, it'll fail to pick the end of the charge and keep on going, smoking your NiMH cells in the process.
In a pinch, however, it's generally safe enough to partially charge NiMH cells in a NiCd charger. Give them considerably less time than they need for a full charge - a couple of hours, say, for a "three hour" charger - and you'll get enough of a charge to make the cells useful without hitting the end-of-charge detection problem.
Louder! Faster!

I have an Asus P4C800 Deluxe running a Seagate Barracuda V SATA drive. I have heard that if you disable the acoustic management feature, the drive will be a bit louder but will run at full speed.

I have contacted Seagate about this and they have advised that it's not accurate.

The drive runs about 20% slower than my old 60Gb Barracuda IV.

Seagate advised me to check my SATA controller and check that it is running UDMA 6 or greater and if not, to contact my "serial controller manufacturer for the latest WHQL certified, digitally signed controller drivers."

There is no listing in Device Manager for my SATA controller. My motherboard offers RAID with the Promise PDC20378 but says that 2 channels are offered by the RAID controller and 2 are offered by the ICH5.

There is no listing on either the Promise site or Intel sites detailing drivers for my HDD or controllers.

In Device Manager, it doesn't have a listing for SATA controller BUT does have 2x Intel UltraATA Controllers, 2x Primary IDE Channels and 2x Secondary ATA Channels.

How do I check what DMA mode my HDD is using?

Rick
Answer:
It's true that you can disable acoustic management for various drives (IBM/Hitachi, Maxtor...), and get better performance, but you need a special utility to do it. I don't think such a utility's available for Seagate drives. See this, for instance.
I think there is a Device Manager listing for the SATA controller; it just doesn't say it's SATA. Many current motherboards have parallel ATA controller with SATA bridge hardware, in some kind of setup where some PATA and some SATA channels overlap and you can't use them both at once. For single-drive applications, this makes no difference at all to performance.
If you look at the Properties for the various IDE Channels, there's an Advanced Settings tab that shows you what DMA mode each channel will try to use if it's available, and what mode it's actually using. "Not Applicable" means there's no drive plugged into that channel.
Das blinkenlights

I have searched the globe looking for someone who has in stock or can obtain Dr LED by AOpen. There is plenty of archived information regarding this product, but nothing after 2001, and no one who seems to have any or knows where to obtain them, not even the AOpen Help Page.

Mark
Answer:
The reason why you can't find one is probably that practically nobody ever buys one. The Dr LED widget isn't a very useful device, since it only does anything if your system isn't making POST, and then all it does is tell you what the BIOS error beeps would, only a bit more simply. OK, it also stores some CDs, but that isn't a big plus if you ask me.
For what it's worth, there are places that seem to sell it; see here for a UK stockist, for instance.
Keyboard compatibility

Dan, your article on the IBM buckling spring keyboards was great! Exactly what I was looking for. I'm trying to buy one that works with my HP 504n computer.

My current "IBM Model M" buckling spring keyboard DOESN'T work on my new HP. I checked out the IBM website, but they only list 7 keyboards, and none say they are buckling spring 'boards. I can't find anywhere that says "This is a replacement and successor to the Model M keyboard".

Craig
Answer:
Your problem is unusual, but not unknown. I presume other PS/2 keyboards work with your PC; if they don't, then the PS/2 ports are either turned off in the BIOS setup, or barbecued.
Some modern PCs don't like old keyboards, because they draw too much current or otherwise diverge from the modern de facto PS/2 standard by too much. You can modify old IBM 'boards to (probably) make them compatible with newer motherboards; this page, which I link to from my review, tells you how.
If you don't want to go that far, then you can probably also get around the problem by using a PS/2-to-USB adapter - though, as the modification page points out, they don't all work. They turn two PS/2 devices (keyboard, mouse or both) into two USB devices, as far as the computer's concerned. Two PS/2 sockets on one side, one USB plug on the other.
Not ticannoticyingtic at ticall

I live in a rural area, and there are a lot of electric fences in the surrounding paddocks, including one hooked up to the mains of this house. I don't have a problem with the fences themselves, but more on the effect they may be having on my hardware, and more recently, my sanity.

I can hear the constant "tic" of the fence through my speakers (Logitech Z640), and let me tell you, it is very annoying. I like to refer to them as a kind of "audio aperture grille", because like the faint lines on a Trinitron monitor, you never notice they're there, until one day you do, and then they never go away! Even with the volume up high, and the music at almost deafening levels, I can still notice the damn "tic" noise. It's not an overwhelming sound, it's just there, and is insanely irritating.

I have tried unplugging the fence connected to my house, and the one in the paddocks next to me, but the "tic" is still there, so I can only assume that it's originating from one of the plethora of other fences in the area, more than likely from the huge fences of the agricultural college next door to me. The "tic" sound can be rectified via headphones (which seems to filter the noise), but I'm more concerned that these small electrical pulses are damaging my hardware, as I have lost 3 modem transformers, one mobile phone charger, and an internal modem (which a guy at a PC shop described as "being very vulnerable to electric fence death", but he was a bit of a knob anyway) since I have been living in this house. I hate to think what negative effects this may be having on my PC and consoles as well.

So I turn to you, in your infinite wisdom, to find a solution to this problem. I have already purchased an Avico MSD36a 6-way surge-protected powerboard, which claims to filter AC power. This didn't help. I'm considering purchasing a Belkin Surgemaster II powerboard, as they seem to take their filtering products slightly more seriously than Avico, offering an $AU80,000 protected equipment warranty. Would this help matters at all, or would I even have to go to the extent of purchasing a UPS to clean up the power?

I'd prefer not to have to spend $AU150 on the Belkin board or outlay hundreds of dollars on a UPS, if I won't experience "tic-free" computing. But if it will solve my problem, then I'm happy to fork over the cash.

John
Answer:
Most electric fences aren't powered all the time. You run them until the animals learn about them, then you turn them off to save power. If the ticking never stops, then the people running the fence probably don't care very much about it.
What you're hearing through the speakers probably has nothing to do with the mains supply; it's likely to be radio frequency interference (RFI). It's being picked up by the wiring inside the speakers, or by the wires going to them, and it's being amplified along with the real signal. That's why you don't hear it through your headphones; they're not amplified.
This kind of problem is apparently quite common; a nice long fence can and will work as a transmission antenna for RFI. Electric fence RFI can affect all sorts of electronics, to the point of causing modems to disconnect. It can also work over considerable distances. It shouldn't be killing anything, though; it should just be an annoyance. You may have lousy mains power as well. This is also common enough in rural areas, where the mains grid may be flaky, and large loads may be turning on and off all day thanks to agricultural-industrial power users.
Power filtering will do no good at all against RFI. Electric fences that emit lots of RFI almost certainly do it because of a defect, though. They will, for instance, emit more RFI if they're leaking power to ground - if grass or sticks or loose wire or whatever are screwing up the fence's insulation from earth. If you walk the fence and remove such problems (walking the fence at night should make arcing-to-debris obvious, but may also increase the chance of rabbit-hole-related ankle injury...), then the clicks ought to be quieter and less frequent. The people who own the fence should be doing this themselves, as a leaky fence won't work very well, anyway. Maybe they're slack, though.
(And, in later correspondence, John mentioned that the staff of the agricultural college do indeed not seem to give very much of a toss about whether their fences are working efficiently.)
These ham-radio Usenet posts provide some other pointers:
A proper line conditioner would be a good idea for your more valuable gear. (If it hangs in a blister pack in the store, it's not a line conditioner; if it feels as if there's nothing but solid steel inside its casing, it is.) It'd let you ride out very brief power interruptions, and it'd properly clean up any weird spikes and surges. It still won't do a thing against RFI, though.
Camera choice

After traveling Australia with a Canon 2-megapixel A40 camera, I've decided that I am missing much in the world of photography. While I always admire people who properly use standard 35mm SLR cameras, I note some people use digital SLRs like your Canon D60.

However, not being a photographer, I wonder if this is the best choice of camera. I would like to take a photography course, however my goal is to end up using digital.

Is it worth it to, say, use my dad's old SLR for a standard photography course to give me a "base", and then move on to digital?

Jordan
Answer:
For most people, dropping big bucks on a digital SLR (DSLR) for general photography is like buying a rip-snorting twin-turbo circuit racer as your first car.
DSLRs can do lots of stuff that a much cheaper friendly little point-and-shoot digital can't, but there are important things that DSLRs can't do. Like, for instance, fit in a pocket.
There's an excellent article that touches on what happens when people buy a DSLR when they really ought to buy something else (the EOS 10D, the successor to the D60, has "broken through" into the mainstream market and caused some havoc there) here.
Still on photo.net, there's a good piece on point-and-shoot cameras here, and some tips, largely applicable to digital as well as film, here.
I don't know much about photo courses, but I think you'd do well to get a point-and-shoot digital of reasonable quality (say, one of the current low-to-mid-range Nikon Coolpix models) and a book on photography (preferably one that doesn't spend three quarters of its time talking about film emulsions and developer baths) and then just get out there and take a zillion pictures. Digital is perfect for that; the secret to great photography is very large amounts of bad photography, and digital lets you see what you've made right away, essentially for free, and take thousands of pictures in a day, batteries and storage space permitting.
I review an excellent book about digital photography here.
Fan probing

What type of signal does a speed reporting (RPM) fan output? Is it a voltage level or tachometer/clock style output?

My reason for knowing this is a case mod project using an LED array animated depending upon/using the signal from speed reporting fans.

Mark & David
Answer:
Very probably pulses - open collector ("open drain"), two pulses per rotation, 50% duty cycle. So it pulses between high and low impedance to ground twice per fan rotation, which makes it quite easy to interface with all sorts of PIC-type stuff.
Bicardular computing

For the price of ten dollars (American) I managed to obtain a P3 450 machine of no particular merit (aside from the fact that it was cheap) at a yard sale. It's got 13Gb hard drive, 96Mb of RAM, and a DVD-ROM drive.

I figured I could hack together a DVD/DivX box from this thing and hook it up to my TV via my old ATI All-in-Wonder card, and also move the card into a computer that's close enough to a cable connection to actually use the AIW's TV capture component for something. This machine also has an AGP 2X slot, a luxury that none of my other machines can afford.

Well, I have here an Nvidia Vanta card. Laugh if you must, but its a much more capable 3d card than the S3 Savage that's in the machine now, which seems to have all the acceleration prowess of a wet noodle.

Winding around to the actual question, what will happen if I install the Vanta card, leave its monitor port unoccupied, and hook the machine up to the TV via the (PCI) All-In-Wonder card? Will I get any 3D acceleration, or am I suck with the less-than-compelling acceleration of the ATI card instead of the Vanta?
Answer:
Sorry - you won't even be able to use 3D from the ATI card, unless you can set the BIOS to regard the PCI card as the primary adapter - in which case you won't be able to use 3D on the Nvidia card.
Tonight, on "The Nutcase Show"...

Normally you show me ridiculous sites. Well, I thought, I can do this, too:

http://www.wellnesstools.com/a_aging.php

Bernhard
Answer:
That's a pretty good grab-bag of manure right there, isn't it? They're missing an EMPower Modulator, for some reason, but there are plenty of other options for people who need to own multiple devices that are all supposed to cure everything that's wrong with you, all by themselves.
I don't know how big the "Aqua Chi" is, but for $US1400, you'd better be able to climb into it.
They even reference the wonderfully nutty, but unfortunately totally deadly, Hulda Clark - but they spell her name wrong.
And here's the target market

Dan! I need your help, that sexy mulletino of yours is just crying out for an email from someone like me!

I need to wreck my pc coz i want a better one from sony!

I cant reach any parts other than the fan and barely reach the motherboard.

What can i do!!!! Stopping the fan only gets temp around 70.C and the cpu (100% usage) still churns along happily.

*wailing* what can i do dan!
Answer:
What I think you actually need to do is stop asking strangers to help you commit fraud.