Atomic I/O letters column #117
Originally published 2010, in
Atomic: Maximum Power Computing
Reprinted here June 9, 2011 Last modified 16-Jan-2015.
The flash-RAM anti-TARDIS

I made a foolish impulse bid or two on eBay the other week, and soon became the proud owner of two 32GB SDHC memory cards for around $24 each, free postage. They arrived in my hands a short time later; I opened the package... but something didn't seem quite right. In fact the only thing running through my mind was that I had bought counterfeit chips. Shouldn't there be some sort of cardboard packaging saying how fantastic it is? Why is there an air bubble underneath the sticker? How can the sticker claim this to be "Class 6" (the highest class) when it looks terribly boring (it's not shiny!)??

I ran off to Google and found that "h2testw" was the weapon of choice in testing whether an SD card was fake or not, and the results of course confirmed it was. Curse that seller's 99.2% positive feedback! The test reported "1.9 GByte OK 29.0 GByte DATA LOST" among other things.

I am wondering how they managed to trick the operating system into thinking a 1.9GB card is 32GB? Is this something I could do as a cool party trick? Could I "upgrade" the family's old 40GB hard drive to 1TB?

James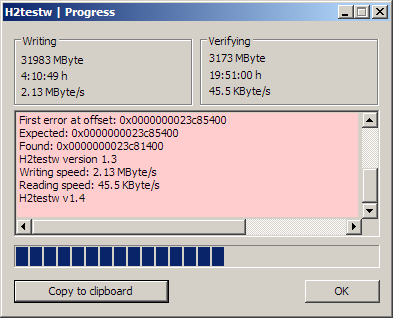 H2Testw, the Bearer of Bad News.
Answer:
It's quite easy to, with the right firmware-burning software, tell a memory card or USB stick to report a much higher capacity than it actually has. This is the way this irritatingly common scam always works. The card or thumb drive really does have some memory on it, and the real memory is at the "front" of the device, the first to be filled.
So, at first, these devices seem to work, and the scam artist responsible gets good eBay feedback (though they often fold up their eBay/PayPal accounts and steal away into the night, if you file a dispute).
Unless, of course, the buyer is suspicious like you and runs a testing program, or just manually fills the device with data and then sees if it's possible to read all of it back (you only need to test the last file you copied...). Then the subterfuge becomes apparent.
It's theoretically possible to re-flash the firmware to only report the real capacity and thus get some use out of the thing, but in practice you probably won't be able to do it.
The correct course of action is to save the fake cards in a baggie for giving to people you don't like, and file an eBayPal complaint with ABSOLUTELY NO EXPECTATION that you will actually get your money back, even after weeks on end of Kafka-esque interactions with a long sequence of pseudonymed eBayPal representatives who will cheerfully instruct you to do the same impossible things over and over and over, like have the fake cards somehow "appraised", or get a US police report form from the Australian police.
No, I'm not speaking from experience. Whatever gave you that idea?
And yes, it's possible to do similar tricks with all sorts of other storage devices. Just as it's possible to make a Zip file that will try to expand into countless hyperbytes of data, it is also possible to make a hard drive with more apparent capacity than Google, or indeed a floppy disk with more capacity than the NCC-1701E's computer. This trick was used as a (rather weak) copy-protection technique, back in the floppy-disk days.
The Diamond (Heatsink) Age

The precariousness of the diamond "market" is well known among internet types, however a crash hasn't happened as predicted in this fascinating old (1982) article.

Nor have high-pressure high-temperature synthesis and chemical vapour deposition diamonds had much impact on the general public's idea of the worth of diamonds.

Do you think there will ever be diamond crash? Will we ever see the fabled diamond heatsink? Would we even want one? I imagine they would be pretty difficult to manufacture practically.

Alex
Answer:
Diamond does indeed have very high thermal conductivity. Super-pure synthetic diamond can beat the thermal conductivity of copper (silver's only around 20% better than copper) by at least a factor of ten, and possibly a lot more.
And, as that Atlantic article explains, the major players in the diamond market have kept diamond prices artificially high for a very long time, by restricting supply and by strangling the second-hand market. Artificial diamond technologies have been advancing steadily - it's been possible to make small industrial diamonds inexpensively in bulk for a long time. But artificial diamonds haven't had much of an effect on the gem market yet.
The demand for cheap gem diamonds is smaller than you might think, too, because of non-diamond artificial gems - today usually cubic zirconia (cubic-crystalline zirconium dioxide) and clear silicon carbide, a.k.a. "moissanite".
These fake diamonds look great, and are already quite cheap to make (very cheap, in the case of CZ). And CZ is a lousy thermal conductor, but moissanite is a very good one, and has already been used for heat-transfer in chip packages.
(So, by the way, have several composites that mix diamond dust into metal alloys. Their conductivity is much lower than plain diamond, but their composition can be fine-tuned so it matches the thermal expansion of the chip materials they're bonded to.)
You shouldn't expect to see an actual diamond heat sink - as opposed to some sort of diamond heat spreader inside or on top of a chip package - of any significant size for a long time. Possibly never. You'd need to be making really huge synthetic diamonds to be able to carve 'em into something even the size of a northbridge-chip cooler, and I don't think anybody knows how to make 'em that big yet.
We can, and do, already make giant "boules" of synthetic silicon and corundum - and synthetic rubies and sapphires chemically identical to the "real" stones, are very cheap. But diamond is much more difficult to make in big lumps.
Diamond is also very difficult to shape, because it's so very hard, and also brittle. (There's a myth that diamonds are as strong as they are hard, so you can test an unknown stone by whacking it with a hammer. Nobody knows how many real diamonds have been smashed this way.)
To minimise the shaping problem, you'd want to make your original synthetic diamond lump as close as possible to the shape of whatever the final product is going to be. In the case of a finned heatsink, this would probably be extremely difficult.
As I said the last time I wrote about this, there are several industries that have a use for big artificial diamond lumps - like people making "anvils" for ultra-high-pressure science, for instance. Those industries are willing to pay a very great deal more than heat-sink prices for big diamonds. So unless someone does come up with an inexpensive process for making tennis-ball-sized diamonds in bulk, you shouldn't expect to ever see a diamond heat sink.
Another bug hunt

One day, not so very long ago, I turned on my monitor to find no picture. As the computer was still sharing files on the network, the monitor worked fine with my laptop, and the standard fix-it technique of any computer user (restarting) didn't change anything, I thought it was probably a faulty (PCIe) video card. I turned the computer off, and requested a replacement.

A few days later, I tried turning the computer on (without a video card) to access a file on a network share, only to hear continual long beeps from the PC speaker. The manual suggested that this meant faulty memory, so I made a new diagnosis: faulty northbridge. A few days later, a replacement motherboard arrived. I plugged the CPU, RAM, and video card back in, turned the power on, and again, no picture and continual long beeps. I replaced the memory with two new sticks, and tried again. This time, while there was still no picture, the computer booted and showed up on the network. So, after using some moderately offensive language, I requested replacement RAM and I bought a new video card (since there was a month-long wait to get the old card replaced).

I left the computer running headless while I awaited the replacement parts. Of course, the PC was not to be treated in such a blatantly disrespectful way, and so it shut itself down one night. When I tried to restart it, I was relieved not to hear any POST error beeps. Not so happy not to hear any POST success beep - the CPU fan turned on, but the PC now refused to boot at all. Even removing the memory entirely couldn't convince it to signal any errors. So, resigned to my fate, I bought a new CPU (a Core 2 Duo 7400), which arrived today. I plugged it in, along with the new video card and new RAM... with no change. Still no picture, still no POST beep, still nothing.

So here, at last, is my question: WTF? Could the source of all these problems be the PSU (a 520W Corsair modular unit, and the only component which hasn't been replaced in the last month), or am I unlucky enough to have got a bad replacement for the motherboard? Or, as I am beginning to suspect, am I missing something completely bloody obvious?

Craig
Answer:
Yes, the PSU would be my first guess given pretty much any cluster of bizarre symptoms like these. Hardware does peculiar things when it doesn't get enough volts. And, as I've written many times, a spare PSU is a good thing to have on the shelf anyway, so there's not much lost if the PSU turns out to not be the problem.
If swapping in a new PSU doesn't help, my next step would be to look for electrical weirdness inside the case. Are there, for instance, any motherboard standoffs accidentally installed in places where there is not actually a hole through the motherboard? Also look for loose screws, washers, eggbeaters, crowbars et cetera that may have fallen into the works. And make sure all of the cooling fans can spin, and that the heat sinks aren't clogged with dust. Also make sure all heat sinks are properly installed, and haven't come loose. A stone-cold heat sink is one that probably isn't making proper thermal contact with the thing it's meant to be cooling.
It is also possible that one or more components of the PC have been static-zapped before, or during, your attempts to rectify the problem. Many totally mystifying PC problems are like this; there's something wrong with Component X, but in the process of replacing it Component Y gets half-toasted, and now the hapless user thinks the replacement X has something wrong with it.
Just talismanically touching the computer chassis while working is a good enough anti-static precaution 95% of the time, but it's very cheap to do it properly. Get yourself an anti-static wrist strap (if you've got a PayPal account, it's hard to go past this one!), and use it.
Stop cursing during prime time

When I change the volume on my Windows XP laptop (shut up, it works), I get a DEAFENING beep. Stupidly loud. I'm afraid that it's hurting the tiny speakers. I could swear it even did it once when the audio was muted.

I've updated the audio drivers, I've removed the sound adapter and redetected it, I've sacrificed a goat, nothing works. Is this God telling me to upgrade?

Cai
Answer:
Maybe, but you can ignore Him.
Go to Device Manager, View menu, "Show Hidden Devices", and under "Non-Plug and Play Drivers" you'll find "Beep". That's the old "PC speaker" error/notification beep, which is being redirected to your audio device at maximum volume.
Disable Beep, and the outrageous noise will be silenced.