Dan's Data letters #42
Publication date: 29-Apr-2003.
Last modified 03-Dec-2011.
I got the shakes

My "study" is next door to my laundry, and whenever my wife does a load of washing, my monitor shakes. Not the whole monitor, just the image within the monitor. I have tried putting rubber feet on the washing machine, but given that it is an old house with wooden floors, the rubber does little.

Will the shaking damage the monitor? Will the shaking damage the monitor even when it is off? Is there some kind of device that I can use to absorb the shakes that I could possibly put under my monitor? Like a gel pack of some kind?

Pak
Answer:
I initially thought this was some sort of magnetic interference issue, but Pak made clear to me that it's purely mechanical. It's an image disturbance, but it's being caused by vibration, not by magnetic emanations from the washing machine's motor.
Assuming that it's not an electrical issue - there could be power supply contamination happening as well as mechanical vibration, in which case a decent power conditioner would help - then what's happening is that the monitor and your head are both vibrating, out of sync with each other.
The image on a CRT monitor isn't drawn one whole frame at a time, like the image on an LCD. A CRT's image is, instead, painted line by line on the screen, from top to bottom. Normally, the speed of the redraw process means you see the monitor as one stable image (though if you shake your hand around in front of it, you'll see strobe-lit silhouettes of your fingers), but mechanical vibration stops you from seeing the rapidly repainting image as one clean rectangle. Readers who have a suitable vibrating object handy - electric toothbrush, massager or, um, what-have-you - can see this effect by vibrating their skull while staring at a CRT.
One solution to this problem would be a less shaky washing machine; newer models tend to cope with off-balance loads much better. Or you could try to isolate the washing machine from the floor better. Elevating the machine on a wooden plinth supported by large foam blocks might do it, for instance. Since this column went up, a reader's suggested a pair of concrete tiles separated by a three-quarter-inflated bicycle or motorcycle inner tube.
Isolating the monitor from the vibration is obviously easier, but may not actually cure the problem - if your chair's still buzzing around, for instance, the image on the monitor will still look weird even if the screen itself is perfectly still, because your eyes will still be vibrating with respect to it. Better to stop the floor from vibrating in the first place.
Gigabit crossover?

Can I use a standard CAT5e crossover cable to connect two PCs with 1000Mbit adapters?

I have been told that I will require a switch to facilitate this, which seems somewhat "overkillish", as I only want to connect two PCs.

Can you light some shed?

Geoff
Answer:
Yes, it should work, but only at 100BaseT speed, and only if the two adapters both figure out what's going on.
But you can connect two gigabit devices without a switch - you just use a plain straight-through gigabit patch cable, exactly as you'd use to connect the a gigabit adapter to a switch.
Reference here.
Drive Of Not Quite Doom

I know you are an expert on power supplies and the funky things that electricity does to pc components (put it this way: you are more of an expert than I am).

My sister started up her pc (a 4 year old POS Celeron 333 slot 1 system) and smelt something funny.

She saw a nice pretty light show from within the PSU, and upon resetting the $5.95 power board from K-mart, the PC failed to restart.

She then offloaded it on to me to have a look at.

I confirmed my suspicions that the cheap "Yum-Cha" brand PSU (I am forever in your debt for introducing that generic term that is a little bit more polite than POS) was fried (I took the cover off, plugged it in fully aware of breaking a few regulations regarding operating on 240V equipment, saw a nice little purple spark jump from one component to another, and quickly unplugged it before I unwittingly sacrificed myself to the great god Ampere), and had probably taken M/B, CPU and RAM with it.

To my very great surprise, the CPU and RAM still work, however the M/B was as dead as corduroy, and so was the hard drive (a not so old Western Digital 10Gb drive).

Every time I started the same PC with a replacement PSU and the hard drive plugged in, it tripped the PSU overload - I assume it's an overload because for a few minutes afterwards the PSU won't work, then miraculously comes back to life. The same thing happened when I put the drive in my own PC.

Now I don't think the Messiah has returned in the form of my PSU, so I came to the conclusion that unless aliens are playing a practical joke on me, the hard drive is overloading the PSU.

Do you agree that the Hard drive is overloading the PSU? And do you know if anything can be done to restore the drive so I can get data off it? I'm not sure I could use the defibrillator at the hospital, but I do have a set of jumper leads and access to a car battery.

Bearing in mind I am not motivated to spend a great deal of time fixing this hard drive - my niece will just have to re-write all her assignments. Also I am not rich enough to pay an exorbitant price for some institution to recover the data.

I am, however, fully prepared to have at the drive with an oxy torch and hacksaw to relieve it of its shiny rotating gizzards.

Dan [no relation]
Answer:
Yes, it seems likely that the drive's overloading the PSU. If it's presenting a dead short to the 5 or 12 volt rails, and the PSUs you've tried have self-resetting circuit breakers in them (the switchmode circuitry may do that by itself), then that'd explain the symptoms you've seen. Consumer PSUs I've seen just have a fuse, though; short an output rail once and you've got to take the lid off the PSU and change the fuse before it'll work again (replacing the fuse with a paper clip is a deprecated solution).
I'm inclined to suspect the fried drive's connecting +12V to +5V, or some such, and that's why the PSU's refusing to power up.
It's probably possible to get data back off the drive; changing the controller board for a working one from the same make and model of drive (which might be hard to find, but won't be expensive second hand if you can find one) would have a good chance of doing the trick. The drive mechanism is likely to be OK.
Swapping controller boards is generally very easy. Take basic anti-static precautions, undo a few screws (which are probably Torx, but you can undo those with an Allen key in a pinch), remove the old board, put a new one in its place.
Of course, you won't need to go through all that just for your niece to get her assignments back. She can just restore them from her regular backups!
Painting with magnets!

I'm employed as the resident tech monkey at a public school here in the States. Recently, some of the students discovered the joy of magnetism, and more specifically, the joy of making pretty patterns on computer screens with small magnets.

Normally, this is a minor problem, but apparently one of the little brats seems to have gotten his paws on a rare earth magnet, which as you know, has a much more noticeable effect on CRT screens. (Please note that I do not blame you for this, despite the fact that he almost certainly got the idea from reading your article about these highly entertaining little toys.)

It was a simple matter to degauss most of the affected monitors, but unfortunately, some of the machines were older Apple iMac computers with CRT screens, and as far as I can tell, they have no button or control panel option to degauss their screens.

Is there an easy way to reverse this magnetic graffiti without buying specialized equipment? I remember you mentioning some sort of degaussing tool that would solve this problem in an older article, but I was unable to locate anything like this through the tool vendors that our district requires us to order from. (Although at this point I'd certainly consider buying one of these devices with my own personal funds, as long as the price wasn't too restrictive. A man can never have too many tools, after all.)

Marc
Answer:
You probably need a degaussing wand or coil, which is just a hand-held mains-powered electromagnet; it's not hard to make one. Many techs have made a degausser from a coil salvaged from a dead CRT (all CRTs have degaussing coils built in). It is, of course, perfectly possible to kill yourself with a badly made degausser, or to make one that catches fire.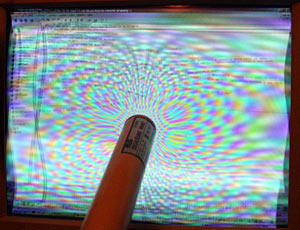 I love having an excuse to show this picture.
Assuming you've got a degausser that doesn't electrocute you or explode, the idea is to turn it on far enough away from the CRT that it has little effect on it, move it in and wave it mystically around the affected area, then move it away again before turning it off. Otherwise, whatever field pattern is being displayed when you turn the wand off will be "fossilised" on the screen.
There's more info about all this here.
If you want to buy a degaussing wand, I suggest you try checking with your local TV repair people. They'll at least know what you're after, and may be able to suggest a local retail source.
A CRT iMac should degauss itself when it's powered up, and when it resets, but not when it wakes up from sleep mode, by the way; see here. So you could just reset the affected iMacs over and over and see how much that helps. A CRT that's been doodled on with a rare earth magnet is unlikely to be able to degauss itself completely, though. The built-in degaussing coil is not terribly powerful, and there's no way to use it like a paintbrush to try to de-stain particular areas, which is what you're likely to have to do here.
This isn't to say that you'll necessarily be able to cure the problem completely with a degaussing wand, but you should at least be able to make the screen look better.
Trippy computing

I recently got my hands on a large plasma ball quite cheap from a clearance sale. After getting over the initial goofing around with it I had the idea of putting it where it would look the best, which happens to be in my grotto of a darkened computer room, between two computers (one a MiniITX in a an all plastic case, and one aluminum full tower Athlon), and on top of a KVM switch.

What I'm wondering is if this is safe for the operation of the computers? Can it ruin random bits on my hard drives? Can it be harmed by the computers? Can it disturb the video signal going through the KVM?

Sohaib
Answer:
Been there, done that. As have others.
In answer to your three questions - no, no and no. There's no magnetic field to speak of, no there are no EMR-vulnerable parts in the plasma ball, and your video cable is shielded. But it's not impossible that the considerable electric field around the plasma ball could corrupt data; it could induce a significant potential in motherboard conductors, and such.
In my experience, this isn't actually likely to be a problem unless you take the side off a PC case and jam the plasma ball in next to the motherboard, in which case it could probably just electrostatically fry some chips. If everything's behaving itself now, though, it ought to continue to do so indefinitely.
So many standards to choose from

I'm wishing to buy a DVD burner.

The main reason I want this drive is for data backup, although I would like to make backups of my DVDs as well.

Based on this, which type of burner is most suitable?

I have read about as much of the sales blurb on several models as I can handle, without getting any straight answers. DVD-RW, DVD+RW, DVD-R, DVD+R, DVD-RAM, etc.

I know one type of burner is more suitable for some things but not others, but I ask you if you could give me a crash course and help me make sense of it!

I would prefer to put this burner into an external case, as I could then just take it over to a friend's/relative's and backup their data. Are there any external cases with, for example, a USB interface, or another easy solution?

Rick
Answer:
DVD-R (written in a DVD-RW-capable drive) seems to be the current de facto standard; DVD+R and DVD+RW are, I think, technically superior, but just don't seem to have taken off.
There's more info (and, with any luck, that "crash course" you're looking for), here.
You can get external cases that'll do what you want, but try to see the case you're considering working in the store with the drive you're considering, before you take anything home. Some USB-to-ATA bridge hardware can be troublesome with writable devices. Also, you'll need an external box that works with USB 2.0 (or FireWire, though many PCs don't have FireWire ports), and a PC with USB 2.0 ports; USB 1 isn't fast enough for even "1X" DVD writing. 1X DVD writing requires about a 1.2 megabyte per second data flow.
Bigger battery?

I started up my car today and the first thing I noticed was that my clock in my car was running 25 minutes slow (first time it's happened). It could be a glitch but it started me thinking that my battery could be going flat.

Recently I've done some more installations in my car, which could be impacting the drain on the battery. The car is stock standard, however in the last 6 months (since I've bought it) it's had the following installed:

- New stereo (Sony system 4x45Watts) and four new speakers - 6 by 9s in the back and smaller ones in the front.

- New alarm system, with remote central locking and siren - the car chirps every time I arm it.

Now I've been thinking regarding battery sizes for my car - at the moment it has a 280 CCA Bosch battery which is just over 6 months old but I'm wondering if I should be upgrading my battery. I'm not sure exactly how to work out how much drain there is on the battery.

Phil
Answer:
Your car's clock would lose time if the battery actually was flat, but then the car wouldn't have started. The clock is very low drain; it'll run whenever the battery has any juice at all left in it, and long after the battery's too flat to start the car.
Upgrading the battery wouldn't help if your car had too much gear in it; that'd just give you a bigger bucket, as it were. If the car's alternator can't fill that bucket (charge the battery) faster than the stuff that's on the car empties it, then the bucket will still end up empty, no matter how much water was in it when you bought it.
The stereo and car alarm, however, aren't a serious drain. People with really monster stereo systems, giant light bars and other extras on their vehicles can need beefier alternators and batteries (often more than one battery; recreational vehicles with lots of extra 12 volt stuff generally have one battery to start the engine and an isolated battery bank for everything else). But you shouldn't need to bother with any of this.
I'm inclined to suspect that you've just got a dodgy clock.
Smaller batteries

I've recently upgraded my ancient cell phone, and I'm trying to determine whether I can use my old rapid travel charger with the new phone. The manufacturer's web site doesn't indicate compatibility, but I'm inclined to think they're not being forthcoming with the details, and my hope is that you'll be able to provide a quick assessment.

The new phone is a Nokia 8265i, which sports a tiny little 3.6V 900mAh NiMH battery. It shipped with a charger that produces 3.7V/340mAh.

The old phone was a Nokia 5120, for which I had two different batteries - one 3.6V 900mAh lithium ion, and one 3.6V 900mAh NiMH (Nokia model BMS-2S).

The old rapid travel charger puts out 6.2V/720mAh. Given that it seemed to work just fine with the 3.6V/900mAh battery on the 5120, I would tend to think it would be fine with this new one, but I'm just not sure, and I'd rather be sure on this kind of thing.

Gabe
Answer:
The current rating (in milliamps, mA, not in milliamp-hours, mAh) is how much current the charger can deliver, not what it will. Higher current ratings are fine, as long as the voltage is the same; you just won't be working the charger as hard as it can work.
If the plug on the old charger fits the new phone, it ought to work perfectly well. The phone is what actually handles the charging, not the "charger"; that's just a regulated voltage source.
If the plug doesn't fit, then the charger might work fine with a new plug; you can get pretty much every size of plug from electronics stores these days. Grafting the new plug on shouldn't be a difficult soldering job, either, unless there's nylon-weave wire in there (the nylon strengthens the cable), in which case it will be annoying. It's important to get the polarity right, though.
Even smaller batteries

As a side project for personal entertainment I intend to squeeze a Luxeon LED into a Mini Maglite. Everything should fit (barely), but I have one minor problem. I'd like to use rechargeable batteries (being environmentally and fiscally conscious) but I need AA batteries that put out 3.6 volts or so. These can be had in lithium form, but I understand that straight lithium isn't rechargeable and is expensive on top of that. Do you know of any AA, 3.6 volt rechargeable (NiMH or whatever) batteries, and where I could acquire some?

Jeremy
Answer:
You'll apparently get decent output from a Luxeon Star using a couple of regular AAs - lithiums, for preference, which'll give you 3.4 volts open circuit instead of the nominal three volts you'll get from alkalines.
The preferred option for full power output from a Luxeon in a two cell flashlight is a DC to DC converter, though, not different batteries.
Here are a few mod pages that might inspire and/or inform you:
http://www.geocities.com/da_shwartz/flashlightminimag.html
http://home.attbi.com/~theledguy/hobby/flashlight_modifications.htm
http://home.attbi.com/~theledguy/hobby/max_mods/max1674_in_a_mini_mag.htm
There are no off-the-shelf AA sized 3.6 volt rechargeables that I know of (actually, you'd want about 3.6 volts between the two cells in the light), but it's possible to stack up shorter AA-width rechargeables to get plenty of volts. The cells you'd end up using have quite low capacity, though, and you'd probably be wasting some space in the battery compartment. It wouldn't be an elegant solution.
Strange bedfellows?

Thought you might find this interesting.

Any clue as to whether AMD and Intel actually developed this chip together, or have we missed something? My friend and I pulled it out of an old (and I mean old) "transportable" Compaq we found in a dumpster - essentially just a conventional case with a handle and a small CRT built in.

Nick
Answer:
No, it wasn't a co-development project; AMD just made it under license from Intel. They were the first x86 chip clone maker. Their 286 was faster than Intel's, though!
You might like this other picture of the same product.
Don't believe the label

I am trying out the Logitech Z-560 speaker set. Amazing for the price if you ask me..

Your review stood out in that it really picked on a lot of internal things! It seemed funny, since once you started testing the system, you still had so many nice things to say about the performance!

I have been researching this system for a while now. Have you seen the HUGE review on 3DSoundSurge? I also like this one.

Anyhow, you may know this by now, but the speaker driver ratings stamped on the back of these drivers are not the "MAX" ratings. The satellite drivers are MAX 30, and the sub is MAX 150. (They are stamped 15 and 100 I believe, but I looked through all the models on the Tangband Speaker site which are closest to the ones in the 560, they all show the same RMS as the Logitech, but their spec sheet also shows a MAX, which is not printed on the drivers.)

I wouldn't make a point of mentioning this, if you hadn't made such a stink about the numbers yourself! ;-)

(And I KNOW this still doesn't total 400 watts, but there are ways around the limits from what I read... I dunno, but I always see numbers WAY lower on the drivers than on the enclosure.)

Most other reviews marvel at the output of the system, and mention that the 400 Watt rating is supposedly SUSTAINED, not peak!

QUESTION 1: I am a bit confused about that transformer on the inside. Could it be that, despite its size, it does supply enough power to run the amplifiers at 400 Watts?

Phil
Answer:
The ratings stamped on speaker drivers aren't the Peak Music Power Output ratings or whatever other fantasy number a given speaker manufacturer may use to make their system sound impressive, but they are RMS power ratings. You'll probably be able to push a bit more than the RMS rating through a speaker continuously; it depends on the frequency balance of the signal, and (for small speakers) on how well the voice coil is cooled, as well. But it's not generally a good idea to exceed the maximum rating - if nothing else, you'll get lots of distortion as the voice coils approach or attempt to exceed their throw limits.
Power ratings on speaker drivers are never seriously conservative, as far as I've seen. Cheap driver manufacturers don't want to undersell their products; expensive driver manufacturers don't want to inaccurately specify theirs. Result: Generally reliable RMS ratings on pretty much everything.
You can take "MAX" ratings from spec sheets as being the power level above which you're likely to instantly fry the driver. A 15 watt driver with a 30 watt maximum rating will, most likely, not actually immediately die if fed, say, 25 watts in its normal frequency band, but will give very distorted output.
The reason why you so often see lower numbers on the drivers than on the enclosure is sometimes because there's a power-eating crossover inside the box that significantly increases the power handling of the speaker (while reducing its efficiency), but it's usually because speaker and small hi-fi system manufacturers are, often, liars.
The toroidal transformer inside the Z-560 sub cabinet cannot possibly be a 400VA (volt-amp) unit. It's just not big enough. It probably isn't even a 300. It could, perhaps, be an unusually compact 200VA unit, but my money would be on 150 or so, which would line up with the speaker ratings.
The transformer volt-amp rating determines the ceiling sustained wattage the system can possibly deliver; 200VA means 200 watts, at most. Thanks to amplifier inefficiency, you're actually not at all likely to get more than about 90% of the VA rating.
None of this is very important, though, because speaker efficiency makes a much bigger difference. The well-ported sub and relatively large satellites in the Z-560 system give it superior efficiency to various smaller systems; at the few watts per channel that it's likely to be delivering almost all of the time, it'll play louder than a less efficient system would.
Cheap at half the price

I recently read your review of the USB MP3/WMA player code named "George". I was very impressed with the player, so I ordered one from Aus PC Market. Today, just for interest's sake, I decided to go to my local Harvey Norman to see if they had the same player. They did - it was the exact same model and box and everything as sold on Aus PC Market, yet it was $AU190 more.

I laughed, put it back and was on my way.

I'd like to know how they get off selling it for almost double the price? It's downright ludicrous, and if you didn't shop around and bought the first one you saw at the first shop, you would be grossly ripped off.

David
Answer:
Well, there ain't no law against it.
It Is Written that he who buys computer gear from a place that also sells washing machines will soon receive an expensive education.
(Find more Fun With Hardly Normal at the end of this column.)