Atomic I/O letters column #145
Originally published 2013, in
PC & Tech Authority
(in which Atomic magazine is now
a section
)
Reprinted here November 21, 2013 Last modified 16-Jan-2015.
Error of Terror

I wonder if you keep a tally of every letter you're sent that starts with "I'm typing this on my laptop/work computer/phone, because...". Here's another one.

I'm typing this on my iPhone because my Windows 7 x64 PC does not start up any more. All I get when I turn it on is a black screen with a grey error that says "Reboot and Select proper Boot device".

The odd capitalisation in this makes me wonder if it's a kosher Windows error at all, or if it's some malware thing. I can still get into BIOS setup and all of my (3) hard drives seem to be in the same order they were in before, and the computer was working fine before I most recently restarted... do you have a clue?

Juliane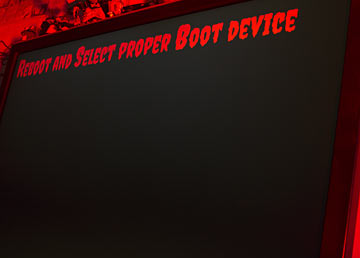 I've always thought the really impressive errors should be presented in a more appropriate way.
Answer:
That error may have the best ratio of terrifyingness to actual indicated danger the x86 computing world has to offer. It can indicate a terrible problem, but it usually indicates a trivial one.
Basically, you get that error - which, yes, is a real error, Despite the Weird Capitals - when your computer's boot order is telling it to try to boot from a device that has no operating system on it. This can happen because your boot disk has been barbecued, or just because its cable fell out. But it's more likely to happen because you've plugged something into the computer that has a higher BIOS boot priority, but which you didn't actually mean to boot from.
This isn't a Windows error, either. The whole problem here is that the computer hasn't made it past the BIOS stage of startup to any actual operating system, Windows or Linux or whatever.
Because Windows boxes are very stable these days - unlike the Win95/98 days, when a talismanic one or two reboots per day was a good idea - it's possible to change something that plants the seed of this error and then keep on trucking without restarting for weeks on end. Then when you do restart, you've forgotten what you changed.
This was indeed the case for Juliane. She'd plugged a USB drive dock into the computer days ago, and it was sitting there with a backup drive in it when she rebooted, and USB devices had a higher boot priority than the internal drives, but the backup drive of course did not have an operating system on it.
Changing the BIOS boot order (or just unplugging the dock when you reboot) cures this problem.
BIOS boot orders can be confusing in PCs with multiple drives, because the BIOS doesn't know what letters and names you and your operating system have given to each drive. All it'll show is the connection type (in this case, the "USB:..." entry at the end of the drive list is a giveaway, if you know what to look for) and inscrutable model ID, like this: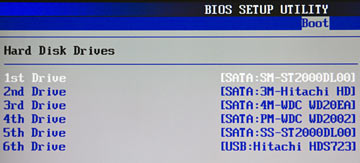 If you've got multiple drives of the same model, you're may have to unplug them one at a time to figure out which is which.
I also like to write drive letters on some visible part of each drive with a silver pen. This feels a bit silly when I'm doing it, but it can be very helpful, especially if there are multiple identical drives in the machine.
Almost certainly not a bomb

My Asus laptop is clicking.

Every now and then, with no rhyme or reason to it, it clicks and then waits less than half a second and clicks again, then falls silent for a few seconds, then does it again.

The last time I heard a laptop do this it was a hard drive dying, but this one's got an SSD, so that isn't it. Removing the optical drive made no difference, either, and I'm 99% sure it's not coming from the speakers.

The laptop doesn't actually crash, but for how much longer? I'm nervous!

Jakob
Answer:
It's possible for solid-state components to make noises if there's enough electricity moving around. Usually it's magnetic fields that do this, as when a transformer hums at mains frequency.
Moving parts are a much more likely culprit, though, and the only internal moving part in an SSD laptop is the cooling fan, or fans.
In the olden days when the fans stopped working the laptop soon did too, unless the ambient temperature and system load were very favourable. Modern laptops often have very good thermal design, though, and modern CPUs can step down their clock speed before they overheat all the way up to the boiling-point range and hang. So a modern laptop with a stuck fan in it won't necessarily stop working; it'll just run slower. It will cope even better if it's got more than one fan, but only one fan is stuck.
By way of diagnosis, I had Jakob sit the laptop in front of a blasting air conditioner for a few minutes, then use it. No clicks for five minutes, until it warmed up again. Then, loading it up with PiFast brought the clicks on in no time.
Definitely a fan controller trying to start the fan, noticing that it's not spinning, powering the fan down, trying again, et cetera.
(Old, dumb fan systems won't make these clicking noises; they'll just send power to the fan and not care if they don't get a signal back saying it's rotating. This is not actually particularly dangerous, because the brushless motors in computer fans, unlike the simpler brush motors in many other devices, won't die or break things if they're jammed.)
On the plus side, all Jakob now had to do was take the laptop apart and clean the fan. On the minus side, he had to take the laptop apart and clean the fan.
Many laptops appear, when you have to do this job, to have been designed by the same people who thought it was a good idea to put a Lexus starter motor in the middle of the engine block, or to make it impossible to change a headlight bulb in a Renault without removing a front wheel.
Time-limited gaming

I can play any 3D game I like, for a maximum of about 20 minutes. Usually more like 15, or even 10. After that much gaming, my monitor (Dell UltraSharp 2707WFP) turns off, even though I've turned off every power saving setting I can find. (Are there hidden ones on the monitor itself? It seems to be completely "dumb".)

I've got an old 1024 by 768 LCD monitor as well, with only a VGA input. When I use that instead of the Dell, everything works. But the Dell goes black after 15 minutes when I play any 3D game. I've tried VGA and DVI inputs on the Dell, and two different DVI cables too. Once the monitor goes black it never comes back, and no other monitor I plug into the computer works either, until I reboot it.

What. The. Hell. Dell?

Owen
Answer:
We narrowed this down with some more troubleshooting. Plugging the Dell monitor into an old laptop and playing Quake II on it worked fine. Suspicion thus turned away from Dell, and toward the computer's GeForce 260 graphics card; perhaps it was overheating and hanging. Playing games on a low-resolution monitor could be loading the graphics card up less, so it didn't overheat.
So we tried plugging the big monitor back into the PC, and turning the resolution and every other graphics setting down to maximum chunkyvision. Now Owen could sometimes play for as much as half an hour before the screen went black! With Quake II in software-rendered mode, there seemed to be no time limit at all.
To confirm the diagnosis, we plugged the old low-res monitor into the PC and ran FurMark, which can 100% load most, if not all, GPUs even at low resolution.
And... black screen after only six minutes. Diagnosis confirmed.
At time of writing, Owen's solution to this problem is the time-honoured desk fan blowing into the open side of the computer.
Humanity's most useful artifact

My dad's computer had a dead power supply, and he got me to diagnose and replace it, but I was stopped short by what I saw sticking out of the back of it:

Its PCIe Wi-Fi card had no antenna on it. There was a PAPER CLIP, unbent, stuck into the little hole in the middle of the antenna connection.

It worked fine.

How can this be? Why pay money for a real antenna if a paper clip works just as well?!

G.
Answer:
Yes, this will work. With the right length of paper clip it may work surprisingly well. This is mainly because wireless networking is up in the microwave range, where antennas can be small.
The various "2.4GHz" Wi-Fi channels cover from about 2.4 to about 2.5 gigahertz. The wavelength of 2.4GHz microwaves is about 12.5 centimetres (the speed of light, about 300 million metres per second, divided by 2.4 billion wavelengths per second). 2.5GHz is about 12 centimetres. (For 5GHz Wi-Fi, halve these numbers.)
Antenna design is a very, very strange and complex field, in which near enough is very often good enough. A paper clip sticking out of a connector on the earthed steel backplate of a PC will make a pretty decent monopole antenna, with passable effectiveness and a reasonably even radiation pattern if the length of wire is about a half, or a quarter, of a wavelength.
An ordinary-sized paper clip unbends to a length of about ten centimetres, so if you don't cut it that's the antenna length you get, less whatever amount of the wire is stuck into the antenna connector. This would make it something close to a full-wave monopole at Wi-Fi frequencies, giving weird radiation patterns, at best. But for domestic purposes, if you're reasonably close to an access point that is not also relying on repurposed stationery to get its signal into the air, it'd still work.
A paper clip cut down so about six or about three centimetres sticks out of the Wi-Fi connector, on the other hand, might actually work quite well. If you plugged it into a USB Wi-Fi adapter with an antenna socket, or into an access point that didn't have a nice slab of metal for a ground plane, then I think you'd once again cut your range down rather a lot. But with careful management I wouldn't be surprised if you could set up a multi-PC ad-hoc network this way, at normal household distances.