Atomic I/O letters column #57
Originally published in
Atomic: Maximum Power Computing
Reprinted here May 2006.
Last modified 16-Jan-2015.
Atomic batteries to power, 15kRPM drives to speed...

What sort of performance boost would you expect to get if you went from using ATA133 drives to SATA, SATA2, Ultra320 SCSI, or Fibre Channel?

Whichever one is the fastest, what would be the cheapest way to get it set up?

Sean
Answer:
The performance boost you'd get from any of these technologies on your desktop PC is best described as "bugger all".
The big bad SCSI busses have huge bandwidth - four gigabits per second for the fastest current FC bus, or something like 400 megabytes of real user data per second. Higher speeds are around the corner for FC and Serial Attached SCSI. They need this to support lots and lots of drives, separately or in RAID arrays. Each individual drive can't actually shift all that much data per second.
The fastest commonly available consumer drives, as I write this, have raw unformatted read rates up around 65 megabytes per second for the outer tracks, and under 40Mb/s for inner tracks. The best high capacity 10,000 RPM server drives push that to around 90 and 50 megabytes per second, respectively (thanks to higher spindle speed), and the craziest 15,000 RPM drives today have managed to inch a little further ahead again, at around 100 and 75Mb/s, respectively (they're not as fast as you might think, because they've got lower capacity and so less data moves under the heads per rotation).
So, if you've only got one drive, a "133 megabyte per second" interface will be more than fast enough, even after you allow for the considerable difference between ATA bandwidth specs and what you actually get in the real world. SATA/150 can handle anything that'll be thrown at it for a while, since each port supports only one drive.
Fancy server drives beat consumer drives for access speed thanks to faster spindle speeds and physically smaller platters for the heads to zip across (which explains their capacity limits), but for desktop PC applications this doesn't matter much. If your computer's flogging its drive like crazy then a super ultra turbo drive will make things faster, but a desktop machine that's doing that is probably trying to tell you that it needs more RAM.
If you're doing heavy duty video editing or scientific computing or serving a major database, then the hefty price of a server-grade storage subsystem can be money well spent - not least because server drives, kept properly cool, are much more likely to still work after several years of non-stop hard use.
And if you want to make a RAID array, one of the high speed SCSI flavours (running on a PCI-X server board, by preference; standard PCI or x1 PCIe don't, themselves, have enough bandwidth) will let you get really impressive extra speed out of it, as well as the data protection that's the major advantage of ATA RAID.
If you're just doing Regular Computer Stuff, though, then even if you're shifting ISOs around and playing games that come on DVDs, you won't get value for money from server-strength storage. Just buy big consumer drives.
And remember, kids: Data you haven't backed up is data you do not want.
inamp kips he eginning

On some tracks, Winamp doesn't play the first few seconds. It just starts about three seconds in. There's nothing wrong with the files, and they play fine in Windows Media Player (bleagh) or QuickTime (bleagh*2), but Winamp chops their noses off.

I've reinstalled Winamp, I've reinstalled my sound drivers; nothing helps.

It mainly seems to happen to classical music and jazz. Why?

John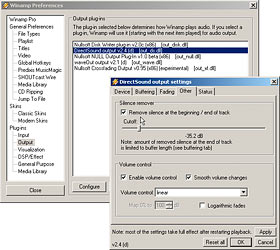 Hey - another thing you can do to other people's computers to drive them nuts!
Answer:
Go to Options -> Preferences -> Plug-ins -> Output -> DirectSound output -> Configure -> Other. My infallible psychic powers tell me you've got "Remove silence at beginning/end of track" turned on.
The slider under that lets you define how quiet Winamp thinks "silence" is. If a track - like a nice subtle piece of classical music - starts out quieter than that threshold, Winamp will dutifully skip forward until the music gets louder. And there's your problem.
First, buy a club-hammer...

I've got a Canon EOS 300D, and there's dust in my 24-85mm zoom lens (which I used to use with my film EOS).

I didn't say on then, I said in. I can see a big chunk of dust on the back of the, um, lens, of the lens, and it's visible in many photos.

How'd it get in there? Can I get it out? I've tried tapping the lens as hard as I dare, but the dust seems to be glued to the inside of the glass.

Anita

Don't let your forehead-sweat drip in there.
Answer:
Yes, you can get the dust out, but only if you take the lens apart.
Totally dismantling a zoom lens (separate, or integrated into a camera) is about as fiddly as you'd expect, and not often worth the trouble if you don't know what you're doing. It's tricky work, and it's easy for an amateur tinkerer to ruin the lens. So if you don't know what you're doing, then either you can afford a whole new lens to replace the one that's full of fungus or whatever, or the thing's so valuable that you won't mind sending it off to the manufacturer to be fixed by the little goblins in their magic castle, or you're just going to have to learn to live with the crud.
But you don't need to take the whole lens apart. All you need to do is remove the front "element", as it's called, because that's where the dust is.
35mm and digital SLR lenses are held together in a variety of ways - screw-in rings, C-clips, screws hidden under rubber parts, and the list goes on. You've got a recent consumer Canon zoom with a simple black ring around the front element - the ring is the part with the lens specs printed on it. Those lenses all, I think, have the front element retaining screws under that front ring.
The ring's just a stiff sticker. Start levering it off with a weeny screwdriver in the single little notch on the outer edge, and it's easy to remove (and replace, though it doesn't serve any optical purpose, so you can leave it off if you like).
Undo the (probably) three little screws you find under the sticker, give the lens an upside-down shake, and the front element should fall out in your hand.
Now clean away. And, of course, do try not to put the thing back together with a damn great fingerprint where the dust used to be.
Things that are good for cleaning lenses: Puffer-brush bulbs, lint-free tissues, microfibre cloths (often even the cheap two-dollar-store "glass cloths", though you might want to give one of those a wash first in case of lint), and "LensPens". Those last items are, I noticed to my surprise the other day, now on sale in Australia in Big W, of all places. They've got "SpeckGrabber" gadgets for picking visible dust off DSLR sensors, too.
Things that are bad for cleaning lenses: T-shirts (yes, even freshly-washed ones with no fabric softener), ordinary tissues, everyday glass cleaner, alcohol. All of these things can damage delicate coatings on lenses and eyeglasses. (Spray-on window cleaners and alcohol can damage anti-reflective coatings on computer monitors, too, though it often takes a while.)
How does the dust get in there? Well, sometimes it comes from some inadequately-cleaned internal component, but it usually gets into consumer zoom lenses because they're not well sealed. The common kind of telescopic zoom lens can easily inhale dust as it extends and contracts.
So, unlike sensor dust, this problem can arise for users of integrated-lens cameras, as well as with removable-lens Digital SLRs.
There are, by the way, a variety of specialist tools that make it easier to dismantle and reconstruct optical devices. Rubber rings to make it easy to grip assemblies that you probably don't want to put in a vise, actual vises specially made for lenses (mainly for straightening dinged filter rings, not really for holding a lens down while you hammer on it), suction doodads that look like tiny breast-pumps but are meant to hold lens elements, retaining ring wrenches, and so on.
Read-Only Memory Card

I know that current generation CompactFlash cards have a finite number of write operations they can perform (which varies, depending on the quality of the card). I'm interested in the number of read operations they can handle.

Once the data's already been put onto a card, how long will it stay there? Can it be read an infinite number of times? Does it eventually "leak" or get corrupted?

I'm looking at making a small computer device that boots a very thin operating system and a 512Mb or 1Gb CompactFlash would be ideal. I'm not actually going to write anything to it, just read, but I'd like to know if there's a possibility that it might fail at some point.

Michael
Answer:
You'll be happy to hear that there's no limit to Flash RAM read cycles. Well, electromigration or something will presumably kill the card at some point, but if all you're doing is read operations, you can still expect a Flash memory card to last for A Long Time.
Flash memory's highly resistant to corruption; passing energetic particles are much less likely to flip a bit of Flash than DRAM, and mechanical, thermal and magnetic attacks aren't much of a problem, either.
iRockin'

I have a simple question regarding the iRock FM radio transmitter.

Recently my wife and I upgraded our in-car DVD system. No, we don't have a fancy van with an LCD panel, instead, we use my wife's laptop. It occurred to me that the single 1nm-diameter laptop speaker sounded like hot liquid ass. So I bought the iRock transmitter to enhance our viewing pleasure.

It runs from 2 AAA batteries, but I was wondering if it could be powered from my wife's USB port? There is also a 12v cigarette lighter version, which would work, if we weren't already using that socket for the 175W inverter hooked up to the laptop (plus, I didn't find out about it until after I bought the AAA model).

Shawn
Answer:
Wow. My girlfriend doesn't have any USB ports at all. Or FireWire. Not even parallel. Perhaps I should upgrade.
Ahem.
Anyway - yes, a USB port would definitely be able to deliver enough juice to run a little FM transmitter like this, but the transmitter expects 3V nominal and USB power is 5V, so you'd very probably need some DC-to-DC conversion stuff, and it'd all be a bit too much trouble.
Get a cigarette lighter double adapter (a decent electronics store should have them; they're also of course quite simple to make from the parts that practically any electronics store will have, assuming you can solder), and a regulated power adapter to plug into it that'll give you 3V output. Those power adapters are cheap these days - they often offer regulated 3, 6 and 9V output, and unregulated passed-through 12V, which becomes 13.8V when the engine's running. You'll be able to run the transmitter you've got from the power adapter, with a bit of wire-fiddling.