Stuff You Should Want
Originally published 2005 in
Atomic: Maximum Power Computing
Last modified 16-Dec-2014.
It's a good life, being a gadget reviewer. Just in case you've been wondering.
The only down side to this gig is that I feel compelled to review every gadget I see. This can turn playing with toys into something that disturbingly resembles work.
So, in this column, I'm going to avoid writing thousands of words about some cool things I've acquired, by just telling you that they're cool.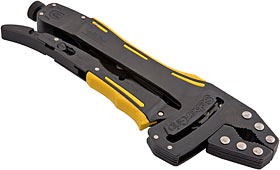 The Seber SeberGrip is a self-adjusting locking plier. Like the venerable Vise-Grip, it has a knob on the end of one handle. The SeberGrip knob doesn't move the jaws, though; it changes how hard you have to squeeze the handles before the plier mechanism locks, all by itself, onto an object of any size that'll fit in the wide-open jaws (which open up to about 30mm at the end, or several millimetres more for things that fit into the notches further back).
SeberGrips are big, chunky, serious pliers (unlike the clever little folding key-ring pliers that SeberTech are famous for - as of 2013 those, and the SeberGrips, seem to be sold
under the "IDL" brand), and suitable for heavy jobs. But they're much easier to use than Vise-Grips, especially if you're trying to grip a series of things of different sizes.
The standard technique for Vise-Grip use is to gently close the jaws around whatever you want to grip, then adjust the knob until (depending on the initial knob setting and the size of the workpiece) the jaws have opened far enough that you can completely close the handles, or have closed far enough that they touch the workpiece with the handles closed. Then you take the pliers off the workpiece, tighten the knob by however much more you think appropriate for the grip strength you need, and try locking the pliers back on. Ideal this is not, but until recently it was the best option when you didn't want to have to keep hanging onto your slipjoint pliers.
With the SeberGrips, you just set the tightness you want with the knob, then just click the pliers onto your workpiece, whatever size it is.
As I write this [originally in 2005; I've updated this page in 2013], nobody in Australia seems to sell SeberGrips yet, but they or some other version of the same idea will no doubt make it here soon. Stanley have come up with the disturbingly normal-looking Maxgrip, and then there's the very Vise-Grip-ish LockJaw. With each passing year, more "self-adjusting locking pliers
" hit the market!
Still talking tools: I'm a fan of the little Victorinox MiniChamp pocket knife. It's got lots of tools, yet is tiny enough that you really can carry it in your pocket all the time.
But it's got some stuff I don't need. The little pen, for instance, is a pain to use (I carry a Fisher "Bullet" Space Pen instead, having evaluated a few other options; earlier models of Mini Champ had tweezers instead of the pen). And the eponychium pusher only sometimes comes in handy as a larger flathead screwdriver.
At least there's no fish scaler on the MiniChamp, but there is an Emergency Blade I never use because I haven't yet been strapped into a car sinking into the ocean. And there's an orange-peeling doodad whose main purpose in the real world is mystifying people who don't know it's an orange-peeling doodad. (They usually guess it's another fishing-related implement.)
So, if you're looking for a small Swiss Army knife for your geekly pocket, consider the Wenger Pocket Tool
Chest (which was at one point called the "Top Executive") instead. Wenger's scissors are better (serrated edge, smarter spring, as I've mentioned before in my review of an LED-light-equipped version of the Pocket Tool Chest), and you also get a very small flathead screwdriver and a pig-stabber of a reamer/needle/awl. No girly tools (well, OK, a nail file, and a crescent out of the side of one other tool that's meant to be cuticle-related but doesn't get in the way), no superfluous blades, and traditional toothpick-'n'-tweezers - no dinky pen.
Are you a rugged outdoorsy type? Do you just like setting things on fire? Get an Ultimate Survival BlastMatch
, available by itself or as part as a nifty little kit (not as nifty as this little kit, I grant you).
The core of the BlastMatch is a darn great tent-peg of "ferrocerium", the mixture of rare-earth elements, iron, iron oxide and magnesium oxide that normal lighter "flints" are made from. The other parts are a steel scraper, a spring and a plastic case.
Real flint, by the way, is not what makes sparks when you strike it and steel together. Real flint is so hard that it knocks tiny hot fragments off the steel. That's what the sparks are.
Ferrocerium, in contrast, is mischmetal with stuff added to make it usefully hard. But it's still softer than steel, and much softer than real flint.
Steel scrapes tiny hot bits off ferrocerium, and the rare-earth metals those bits are made of are much more pyrophoric than steel. This is why modern "flints" work so much better than a genuine flint and steel, or the various even worse options people can be stuck with in survival situations. It's possible to get a spark by bashing a variety of kinds of rock together, but "possible" and "easy" can be a very long way apart.
You can, by the way, experiment further with ferrocerium's enthusiasm for sparking by heating a lighter flint in a flame (the usual party-trick way of doing this is by sticking the flint in the end of the flint-spring from a dismembered lighter and heating it with another lighter).
It will soon glow red, and keep glowing when the flame's removed. It's now a hot burning coal just waiting to explode. Flick it with your fingernail, or throw it on the ground if you're a wuss, and you'll get a pleasing shower of sparks.
Doing this same trick with the BlastMatch is not at all a good idea.
Anyway, used correctly, the BlastMatch creates a shower of sparks that'll pretty much instantly light all kinds of tinder (including the modern outdoorsman's value-for-money favourite, clothes-dryer fluff). Used incorrectly, it'll cover your hand with tiny burn marks and set fire to the carpet. Perfect.
Moving to less caveman-ish pursuits - do you need something to blow dust off things?
"Air duster" cans work well, especially if you've got a lot of dusting to do and don't care how much it costs. But they don't often achieve anything that you couldn't do with a big rubber puffer bulb.
Unfortunately, there has apparently, until recently, only been one company in the world that makes a big puffer bulb.
It's easy to find tiny plasticky bulbs with little brushes on the end that work exactly as well as a little brush with no bulb. It's almost as easy to find bigger bulbs that're adequate for de-dusting a camera lens, but useless for getting crumbs out of your laptop keyboard.
(Incidentally, the cheap rubber-bulb kind
of desoldering tool makes a perfectly OK camera-lens dust blower, provided it's never been used to suck solder. The old-fashioned tacky-rubber type that're usually blue or orange, with a one-way valve at one end and a metal nozzle at the other, can perish and then blow little crumbs of sticky rubber all over everything. The cheaper kind with no one-way valve and a plastic nozzle, though, work nicely. For a full retail price of seven Australian bucks, they're not bad at all.)
What you want (and, again, what you probably couldn't find at any Australian retailer in 2005 when I first wrote this) is a Giotto's Rocket-Air blower. Even the small models (and the angle-nozzled "Q.ball" versions) are huge by crappy camera cleaning kit standards, and the big ones are freakin' gigantic. A good squeeze gives near-air-duster cleaning power wherever you need it, with zero chance of a blast of liquid air duster (also known as freezer spray) coming out to supercool the thing you're only trying to dust.
And yes, the Giotto's bulbs look like rockets. What more could you want?
As of 2013, Rocket knock-offs are all over eBay, and passable blower-bulb thingies cost about a dollar delivered.
(Other notes: A puffer bulb with a suitably fine nozzle can be used to remove the "crystal" from the face of some watches, particularly pocket watches. You unscrew the stem from the watch, stick the puffer bulb nozzle in there, squeeze, and air pressure pops the crystal off. Oh, and the Giotto's bulbs also come with a dangly wrist strap threaded through a hole in one of their fins, but I removed the strap from mine because I already have enough trouble with cats helping me photograph things.)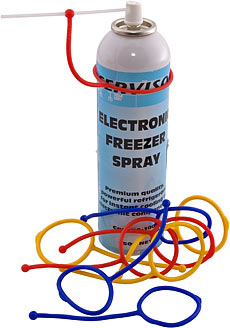 Oh, and speaking of spray cans, the Hold-It Tubular Straw Holder
really does work.
Hence, almost everybody needs at least one. (An envelope of 50 only cost me $US32.94 delivered from the States.)
Nobody in the whole world who hasn't seen a Hold-It in use has any chance of figuring out what they're for just by looking at one of the things by itself. They look like some sort of obscure sex accessory. The rubber ring, people can figure out, but the dangly bit with the tiny hole through it has 'em stumped.
Hold-Its are worth the price just for that, if you ask me.