The Embarrassingly Easy Case Mod
Originally published 2006 in
Atomic: Maximum Power Computing
Last modified 20-Sep-2012.
The problem with basic electronics projects is that they have a very bad ratio of effort to result.
OK, you've got to learn to solder somehow. But the niftiest thing you're likely to end up when you've worked your way through the whole Let's Learn About Wires kit series is a weeny FM transmitter.
So here, for your delectation, is a Thing You Can Make that's easier than that very first Two LED Flasher kit, and creates a genuinely cool (though not, I grant you, especially useful) effect.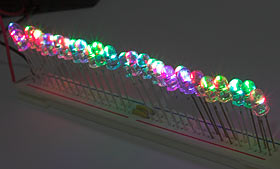 You've probably seen little LED lights of various kinds that cycle through red, green and blue, and then numerous psychedelic combinations of those colours. They're popping up all over the place - in those twinkly mobile phone antennas, in novelty key-ring flashlights, as decorations for the burgeoning market sector of Random Things That Run From USB Power, and so on.
In the olden days, the only way to create this sort of effect was with three separate lamps and a control box of some kind. One can, of course, still do this with separate LEDs.
Then along came low-brightness multi-lead LEDs that combined two or three different coloured dies in one normal 5mm package, but still needed outboard driver hardware.
Then there were high brightness versions, just one of which could deliver penlight brightness.
And now we've got simple two-lead LEDs with three dies and control hardware, packed into a minuscule chip inside the standard-sized LED itself.
These RGB LEDs don't let you control their colour or cycle rate. They just loop endlessly through their fixed sequence of colours - generally red, green, blue, then combinations of each two, then all three at once, then back to red. You can get fast-change, slow-change and flash-flash-flash versions, but you can't turn one into another. And they don't project their three pools of light on top of each other - you get three separate circles of light.
And, furthermore, no two of these LEDs will cycle at exactly the same frequency, so you can't make a synchronised array of them.
And a significant percentage of them have their own odd opinion about what colours to show.
All of this can be forgiven, though, because a bag of fifty slow-change LEDs on eBay ought not to cost you more than $AU20 delivered. I got mine from this eBay dealer.
And, importantly, these LEDs don't even need a series resistor.
Normal LEDs pass more current when they get warm, which makes them warmer, which causes them to pass more current, and soon you've got what's known to us professionals as a "friode". You need some kind of current limiting to stop that from happening. It's not very difficult circuit design - even if you're making an array of bunches of LEDs, the calculations are easy.
But the controller chip in an RGB auto-LED does that for you. All you need to do is feed the LED the right voltage.
"The right voltage", I'm happy to say, is about three volts. You need at least 2.8V for all three dies to light at reasonable brightness (from 2V, only the red die will light), and they'll be brighter from about 3.7 volts. But 3V works, and is very convenient.
You've got a lovely high current 12 volt rail inside your PC, you see. You can thus connect these LEDs together in strings of four (the long leg of each LED's the positive terminal) and run them straight from +12V (that's the yellow wires, kids). Each string will only consume an average of about 15mA, so you can run pretty much as many of them in parallel as you like without straining a PC PSU.
Presto - instant disco-fever case mod.
(The abovementioned eBay dealer bundles a bag of resistors with every bag of LEDs. The resistors let you run single LEDs directly from 12V. But hooking four LEDs up in series works just as well, and gives four times as much disco fever.)
You can get multiple-of-three voltages from lots of other things, too. Any even number of ordinary 1.5 volt batteries in series, for a start. Retrofit that old flashlight!
A string of five NiMH or NiCd cells gives 6V. Now there's a use for those dusty model car batteries with one dead cell.
(And if your rechargeables are above 1.2 volts per cell when freshly charged, that's not a problem either - two of these LEDs in series should be fine from 7.5 volts, which is all they're ever likely to see from a five cell rechargeable pack.)
Repurpose old plugpacks to run a string of RGB Christmas lights!
The current drawn by the LEDs varies depending on which dies they've got lit at any given moment. This means that if you put them in a series chain, ones that're in a lower current part of their colour cycle will throttle the current available to the others, but in practice there's no obvious visible effect from this (the green and blue dies are brighter than red anyway), and the throttling effect should give longer life when the LEDs are running from batteries, too.
From three volts, single LEDs average maybe 14 milliamps each. So you can run them from all sorts of power supplies.
See what I mean about them going out of sync? I think it's prettier that way, though obviously no good if you want an evenly changing colour wash.
These 27 LEDs are running from a couple of D cells (they're all connected in parallel on this strip of prototyping "breadboard"), and drawing less than 400mA on average between them. You can therefore expect at least two straight days of run time from this many LEDs and fresh D alkalines; maybe even four days, before the batteries drop below 2.8V between them and the blue dies stop lighting.
Two of these LEDs in series connected across a standard six volt alkaline lantern battery will do their thing for, I don't know, at least 75 days. Maybe considerably longer.
And a PC power supply won't even feel them unless you install ridiculous numbers. With each string of four only needing 14mA or so from your 12V rail, you'll be able to install about 280 LEDs per amp of spare 12V output.
The same goes for car batteries; even if you pack as many of these things into your car's interior light housing as will fit, you should still be able to leave them on overnight and not wake up to an unstartable car.
So there you go, electronics n00bs. At last, your first step into the world of basic circuits can be groovy.