A PC full of magnets
Originally published 2006 in
Atomic: Maximum Power Computing
Last modified 03-Dec-2011.
Hey, kids! Here's why you should put a bunch of really strong magnets inside your PC!
You may have noticed the Apple MacBook's nifty magnetic power plug. Apart from occasional minor, um, scorching issues, it's a very cool thing, and it's brought the concept of the magnetic electrical connector to the attention of numerous geeks.
You don't have to buy a fancy laptop to play with these things, though.
"Neodymium Iron Boron" (NIB) rare earth "super magnets" are very strong, and very cheap too. They're all over eBay.
They, themselves, don't conduct electricity. Like the even cheaper black ferrite magnets, the black ceramic that NIB magnets are made from has resistance up in the hundreds of kiloohms.
You may have noticed, however, that most rare earth magnets aren't black. They're silver. That's because they're covered with a protective plating of nickel, there to stop them chipping each other to death (and, as a reader has pointed out to me, also to keep the air out). And nickel does conduct electricity, very nicely. This is why you can make a motor out of a battery, a screw, a magnet and a wire.
You can also use rare earth magnets as electrical connectors.
Try using them to stick batteries together, for instance. In the olden days 9V batteries were the only ones you could daisy-chain easily (why yes, you can kill yourself that way!), but now you can click little disc magnets onto the ends of any ordinary supermarket batteries, then stick them together end to end to make packs. Put another magnet on each end of your stick of AA (or whatever) cells, and you can stick any ferrous connector, like an alligator clip lead, onto that.
For a lot of quick and dirty applications this is actually easier than using standard cheap plastic battery holders, since it's easy to make a pack with as many or as few cells as you like.
(Alkaline cells, by the way, all have steel cans, which is why the magnets stick. Carbon-zinc "heavy duty" cells technically only need a zinc can, but modern ones have a steel outer can to try to stop leaks. So magnets stick to them, too. Lithium photo batteries usually have a steel can but may have a non-magnetic positive terminal, in which case this trick doesn't work too well on them.)
Soldering to nickel isn't easy, so you can't make wired magnetic connectors by soldering wires onto NIB magnets. But you might find it difficult to make such connectors anyway, because the Curie temperature for NIB magnets, above which they're demagnetised, is lower than for any other popular magnet formulation.
Ordinary tin/lead solder melts below 200 degrees Celsius, though, and even the touchiest NIB formulations still have a Curie point above 300 degrees. So it shouldn't take immaculate temperature control or exotic alloys to get the job done, provided you can get the solder to stick (which'll probably require a rather ferocious acid flux).
There's an easier way to make NIB magnets into wired electrical connectors. Solder your wires onto little cans, then crimp the cans onto the magnets.
Or, easier still, get someone else do it for you. Here in Australia, Jaycar have three-pair packs of "Magtrix" magnetic connectors for $AU4.45 (in the UK you can get them from Maplin; I don't know about the States).
Magtrix connectors are great. They come with a tinned wire that you can solder onto a test lead or circuit board or whatever, or you can just use them nude as attachment points for other test leads.
And, yes, you can use super-magnets inside PCs, too. If your computer's got a steel case and there's some fan or light or cable or whatever that you want to tack onto it somewhere, a NIB magnet or three will do the job nicely. Tape or hot-glue the magnet(s) to the object, then click them onto the case. Presto - one 80mm fan to replace that blown video card fan, attached in just the right place without the use of double-sided tape or Blu-Tack.
I'm sure this idea is setting off alarm bells for most of you, since Magnets Are Bad For Computers is one of those factoids that Everybody Knows. But no, this is not actually an express ticket to data loss.
NIB magnets are a significant risk to floppies, Zip disks, backup tapes and credit cards, but they're actually quite safe to use near hard drives. If you put a decent-sized NIB magnet actually on top of a hard drive casing, you may manage to wipe some data. But I wouldn't bet on it.
It should be noted that all modern hard drives already contain at least one NIB magnet...
...in the voice coil assembly that moves the heads.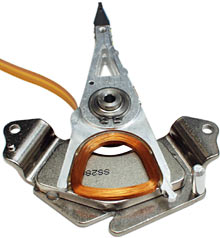 This magnet is very close to the drive platters but does no harm at all, partly because of the field-guiding plates it's stuck to, but mainly because the platters are actually pretty resistant to external fields, and magnetic field strength drops off roughly with the inverse cube of the distance.
(Drive magnets also have a double-pole design - north pole pointing up on the left, south pole pointing up on the right, like two ordinary magnets standing next to each other. This makes their field strength drop off even faster with distance. Flexible fridge magnets are the same - they've got interspersed north and south poles right across their width, which is why they feel "corrugated" when you rub two against each other, and why they've got virtually no field only a few millimetres from their surface.)
I know that, strictly speaking, attaching things to your computer with magnets is not the most useful tech tip ever devised. But since most people think it's an act fraught with terrible peril, it'll give you the chance to look all bad-ass and physics-defying.
Try using magnets to attach some old and broken hardware to an out-of-the-way spot inside your computer's case. Then, when you're bored and have an audience, you can reach into your running computer, pull out a card or a CPU, blow some dust off it and put it back in.
They'll never doubt your mad skillz again.