Dan's Data letters #59
Publication date: August 2003.
Last modified 08-Mar-2015.
Hardware suicide pact?

I've just had my motherboard blow on me. Not that unusual an occurrence I guess, but the monitor went at the same time; it powers up but seems incapable of displaying anything, even the On-Screen Display. Both of these are on an UPS so a power spike is out, yet the only other links between them (the VGA card and the USB feed) work fine. All of the other components still work, too, including those internal to the PC, USB connected devices running off the UPS and off non-protected power supplies. Some of the USB devices were linked up via the monitor's hub at the time this happened and they are fine too. In fact, the monitor's only use now is as the world's biggest USB hub.

I've replaced both the mobo and the monitor, but I can't for the life of me work out how this could have happened without frying the PC's video card. It seems a bit much to assume coincidence, or does it? If it helps, the monitor is a 3 year old Sony 17 inch CRT (just out of warranty...) and the mobo a year old MSI 645E Max2 (again, just out of warranty).

It's too late to save me the money fixing my kit, but the reason why it happened is bugging me now. Any ideas?

Ian
Answer:
A power spike could, actually, have been the culprit. Most things with a sticker on them that says "UPS" are actually Standby Power Supplies (SPSes), which only run their inverters when mains power fails. When the mains is OK, they pass it through, generally with some amount of filtering but not necessarily with anything more than you'd get from a cheap "surge/spike filter" powerboard - which is to say, basically no protection at all. I talk about this in more detail in my old piece here, and at greater length in my slightly newer piece here.
Nowadays, hybrid "line interactive" SPS/UPSes are quite common and are likely to provide better filtering, but it's still easy to find dodgy units at the bottom of the price scale.
If you've got a cheap "UPS", it certainly could have let through some power line transient that fried your motherboard (without, necessarily, also frying the computer's PSU, though the PSU may now be on the way out) and your monitor. That'd account for the symptoms you've seen.
Tail-free rodents

I'm an occupational health nurse and do about 250 ergonomic assessments a year. I work with military and civilian employees and recommend ergonomic equipment. I need good solid justification for recommending a cordless mouse. Can you help me?

Karen
Answer:
Um - don't you mean you're wondering if there's solid justification for such a recommendation?
I don't know of any significant ergonomic difference between cordless and corded mouses.
Cordless mouses are heavier, all things being equal, which may make them ergonomically worse. But I doubt there's much of a difference even there.
The drag from the cord of a corded mouse typically approaches zero, especially over the small movement distances that most experienced computer users prefer. There are cable-suspension gizmoes that can free things up even more.
I think the only reasons to bother with cordless are if you need extra range (for a living-room computer, or business presentations, or whatever) without a cable for people to trip over, or if you're just pathologically averse to cables for aesthetic or more deep-rooted psychological reasons.
Sticky fingers

I have one of the IBM model M keyboards that you have expressed such high regard for. I love this thing so much that I haven't replaced it even though it's the only non-black item within six feet of my desk.

I spilled about half a can of Coke in the numpad. The keys are still functional, but they are very slow and sticky due to the sugar. After wading through many web pages and dozens of forum threads, it seems that very few people have actually tried putting a keyboard in the dishwasher [as mentioned, with some incredulity, in this column], and most of those who did tried it with a keyboard that was already dead.

I didn't find any reports of success or failure involving a buckling spring keyboard. Soaking the keyboard in distilled water would probably be safe, but I doubt that would be sufficient to remove the residue.

Is there a reasonable chance of getting back a working keyboard after running it through the dishwasher?

Eric
Answer:
You may find that little to no liquid actually made it into the keyswitches. I suspect as much, since the keys still work.
It's easy to tell - pop off the keycaps (just lever them off with a screwdriver - they come off easily) and see what there is to see.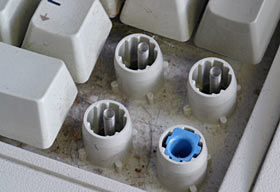 Here's the board-chow-heavy hairy, dusty corner of my own IBM keyboard's keypad - the blue thing is a guide for the bottom of the Enter key, and the other three spring-equipped cylinders are actual keyswitches.
If the cola just gummed up the outside of these plastic spring-holding tubes, it'll be quite easy to clean up - you'll be able to do a reasonable job without even removing the keyboard's casing. You should also wash the keys themselves, but that's simple; they're just plastic, and you can wash them in the sink. For a thorough job, remove the keycaps from the key bodies (every M-series 'board key is actually two pieces of plastic clipped together).
If the goop is inside the tubes, then you may still be able to get away without disassembling the whole keyboard (which may or may not even be possible, if you've got one of the M-series 'boards with a plastic-welded interior). Turn the thing upside down and squirt clean water up into the tubes, then let the 'board air-dry thoroughly in a warm place.
I've written more about the relative awfulness of different beverages, when spilled on keyboards, here.
Spam solution?

I've found almost the perfect solution to spam. It's called FilterMy.Com. Deal is, it logs in and de-spams your inbox every 30 minutes. Free 2 week trial. I like it.

Phil
Answer:
Wow! I can pay money to give my e-mail password to some company that can't decide whether it's located in Ottawa or Chicago! Where do I sign?!
(FilterMy.com is run by Kustom Computer Services, whose mailing address appears to be a Mailboxes Etc sort of place in Chicago, but which says in its domain records that it's in Canada.)
That aside, the only person I want to be putting their hands in my electronic, or physical, mailbox, is me.
Toasty cells

I recently bought a cordless phone. It originally came with two "yum-cha" 600mAh NiMH AA batteries, and a clear warning: "Use only supplied batteries." Laughing, I took my trusty 1850mAh NiMH Energizers and immediately switched to using them in it.

Today, coming back home from a small vacation, I took the phone from its charging base and found it really hot. I quickly opened the battery holder and touched the batteries (as a rule of thumb, if I can keep my finger on an electronic-something for at least 10 seconds, the temps are OK) and found them really hot (45° Celsius or so).

At first, when switching batteries, I thought that the only problem with them would have been (in the worst case) the charger undercharging them, in the unlikely case it was built with some kind of a 600mA battery profile in it. But my findings lead me to think that that charger isn't even smart enough to stop charging the batteries after a while.

Am I missing something here? Will that charger/base station kill my precious 1850mAh Energizers (by means of overcharging and/or overheating)?

Lorenzo
Answer:
Nickel metal hydride cells normally get warmer when they're charged; the faster you charge them, the hotter they get. It's generally OK if they're uncomfortably hot when you take them out of the charger, as long as that's after they've been charged fast. The hotter they are, the fewer charge cycles you'll get out of them, but well-made chargers can deliver piping-hot batteries over and over without doing much more damage than a charger that works at half the speed, so most people think it's a good deal. The ceiling safe temperature is up around 50 to 55 degrees C, with some headroom above that before bad stuff like electrolyte venting will happen.
A phone charger ought not to be doing this, though. Even if it is a fast charger (which I strongly doubt), it would have to have run the phone flat while you were away and then fast-charged it just before you got home, which doesn't make a lot of sense. So it's presumably just been sitting there on a reasonably high trickle charge current for a long time, overcharging the cells. No, this isn't good for them.
This could be happening because of the higher-capacity cells; if they've got lower internal resistance (if anything, internal resistance increases with increasing capacity, but cheap low-cap cells may well have higher resistance than expensive high-cap ones) then a dumb trickle charger would give them more current. For all I know, though, it does this with the old cells too, and just relies on the hardening of modern rechargeables against overtemperature to keep them alive a reasonable length of time.
Or maybe, of course, the thing's just badly designed.
Self-inflicted

I picked up a "home theater" all-in-one unit on the cheap. It's a Panasonic SA-HT70 - 5-disc DVD/CD changer, tuner, etc, fairly similar to the SC-HT700 which appears on the company website, but with no component out. Anyway, the original owner said it had been damaged in shipping, and the moving company was going to pay for a replacement, so this normally-300-dollar unit was pretty much given to me for a case of beer. Win-win, I say. I asked what was wrong with it, and all they could tell me was that after 15-20 minutes of watching a DVD, the video went all black and white. Sound was fine the whole time. They noted that they never heard the fan come on anymore, and when the unit worked the fan was noticeable.

I took the unit home, and couldn't get the error to reproduce. The fan never came on, but the unit never overheated either. So, to make it crystal clear, at this point I had a perfectly functional 300-dollar system and it cost me 20 bucks.

But the fan worried me: would the thing burn itself out over time, if left uncooled? I pulled the fan and hooked it up to a power supply, and it spins. I hooked a multimeter up to the fan header on the board it was connected to, and let the system run for a while. Fan never gets any power. Fair enough, I say - I can just find a pair of terminals with 12v across them, hard-wire the existing fan there with a little dollop of solder, and we're in business.

Here's where I come in and foul it all up: I take my multimeter leads and start comparing terminal voltages around the transformer. I'm not about to fry myself - these leads are supposed to be well-insulated at up to 500VDC. I find a lot of 5V terminals, and some that are quite high - 26 and 50VDC! - but nothing in the range I'm looking for. I finally found two that were 10V apart, but I had to keep looking for 12. The next terminals I touch, my hand slips and I manage to short one to the one immediately adjacent. I hear a soft "pop", then nothing. The system now stays in standby (amber power light) all the time. Pressing Power causes the light to go briefly green, then I hear a "click" from the power controller board somewhere, and we're back in standby.

I went to the Panasonic website for repair centers, and the only one nearby has a 7-8 week backlog (!) and wants $US40 to even look at the thing. I feel like I should be able to fix whatever problems I've caused, but I'm not sure how to start. That's where (I hope) you come in. I'd be interested to get my hands on some kind of repair manual for the unit, you know, turn it into sort of a project. I understand that there's some way you can get debug information out of it - hold down some combination of buttons, press power, and it tells you "F4XYYZIZ" or something and that corresponds to an error code. I have no idea, however, where to find a list of those button combinations or the meanings of the codes, or any other pertinent information. Following traces on the boards can only get me so far, you know?

James
Answer:
/\
|-----|-)------------------
|-----|/--------<>---------
|---/-|---------------<>---
|--(-(|-)------------------
|---\_|/-------------------
| HA HA
\_/
Without a circuit diagram or some obvious blown fuse, exploded capacitor or smoked chip, diagnosis of a problem like this ain't easy. Even with those things, it can be difficult without proper test gear - an oscilloscope, in particular, though this may be a pretty simple problem on the power supply side, or a dead chip that can be spotted with a mere ten-dollar yellow plastic multimeter.
The local distributor will probably send you documentation on the gadget if you pretend to be a real repair person, but it probably won't be free.
There's a good chance the debug code information would be in the repair docs. If the gadget, she no power up, though, then you probably can't access debug mode.
Basically, I don't think there's an economical way out of this situation.
Operator error 2, the saga continues

I, er, seem to have accidentally put the power cable (the one with yellow red and black wires) into the back of a my Sony DVD-ROM, um, reversed, while the power was on. It seems that the metal contacts connected, even though the white socket never actually fit (because it's obviously not meant to). Needless to say, it doesn't work at the moment. So my question is - is the $US100 DVD drive beyond repair?

Another problem I have is that in a separate drive power cable, extensive swapping out of drives has caused one of the two yellow wires to pull free of the white socket-thingy in the power connector. Can I simply stick it in or solder it to the second yellow wire inside the connector?

Why are the connections between the power supply and the drives within a PC so poorly made and/or ill-fitting?

Steve
Answer:
The DVD-ROM is probably repairable, in theory, but it's very unlikely to be repairable for less than the price of a new drive. One or more components on the controller board are probably barbecued, which'd require surface mount rework to replace. Controller boards for consumer optical drives can't be had as spare parts at any price, as far as I know.
What you've done is connected 5 volts where 12 should be (which is no big deal) and 12 where 5 should be (which is bad). The drive's unlikely to have something as simple as a fuse to protect it from this since, as you say, it shouldn't be possible to connect it backwards. A chip or two has probably died.
As regards your other power plug: Um... two yellow wires?
Drive power connectors, both large ("Molex") and small (floppy power) should have one red (5V), one yellow (12V) and two black (ground) wires. Some brand name PCs have PSUs with weird wire colouring, though.
Anyway, the in-line plugs and sockets for Molex-type connectors have little side barbs that stop them from backing out. If the barbs get pushed flat, the pin can come out. If a pin comes out, you can tweak the barbs back out and then push it back in again, where it should click back into place.
If the wire's come out of the pin, you can push the barbs flat yourself (using a thin pointy object and some patience; a piece of metal tubing that fits snugly around the outside of the pin or pin-socket is the only easy way to do this), and then push the pin or socket out, whereupon you can re-crimp or solder the wire back in.
All wires of the same colour should indeed be the same voltage, provided there's not something very weird about the PSU, so you could indeed connect one wire to more than one contact, should that prove to be necessary. Doubling up the load on single conductors is not generally a great idea, but if you're just powering one drive it shouldn't be an issue.
Why are PC power plugs and sockets so lousy?
Because They're A Standard.
"Molex" plugs and sockets seize, jam and break, but everybody uses them because everybody uses them.
There's a chance they'll die out over the next few years, though; Serial ATA drives have a new power connector that makes more sense. Some power supplies these days also come with "Molex" plugs that're much better - less likely to seize, or be difficult to plug in - than the usual white nylon jobbies.
Extra terminals

Something's been bugging me about the battery for my Canon digital camera (MV400i).

Besides the usual (+) and (-) contacts, it has two others marked "B" and "D". Any idea what these are and what they do?

My guess is that they are some sort of monitoring terminals for battery condition/life?

Bill
Answer:
As you guessed, they're data contacts for the chip that's built into the battery. Lithium ion batteries all need these extra contacts, to prevent very dramatic things from happening when you charge them. You can throw some charge into a LiI battery reasonably safely with a dumb constant voltage charger, but charging them fully without destroying them is much trickier. The chip helps with this, and is also what LiI-powered gadgets use to report their remaining battery life, provided the chip's got the right idea about the battery condition.
(Some batteries have an extra terminal that connects to the middle of the string of cells inside. So if you call positive P and negative N and the extra one in the middle X, a cordless-drill battery might deliver a nominal 14.4 volts between P and N, and 7.2 volts between P and X, and 7.2 volts between X and N. Packs like this can be useful to power devices, like amplifiers, that need a negative as well as a positive power supply.)
Scratched screen #5431

I have a Sony G520 21". It's a factory second; I picked it up fairly cheap, and found that there was a dead pixel on the middle right hand side of the screen. Nothing to worry about; just a dead dot too small to see from normal distance.

The other day I was wiping my monitor (stupidly) with my jumper to get rid of a little spot, when the zipper from the jumper rubbed against the monitor. This caused a little scratch - which I thought would rub off. Unfortunately not so.

I believe the scratch is only in the anti-glare coating, as I can't feel it with my fingernail when running over the glass. So here's my question. Is there any way for me to entirely remove the anti-glare coating, or get it fixed? If I were to remove the anti-glare coating, would I notice much of a difference when gaming in my extremely dark room?

Luke
Answer:
I know of no way to repair a scratched anti-glare coating, but apparently you can remove the coating entirely, though I've never seen it done. You take the casing off the monitor and use a power drill, lambswool buffer, and abrasive ranging from "very very fine" to "subatomically fine". The result's a shiny polished coating-less CRT, and some toxic leaded-glass dust.
And yes, scratches that you can see but not feel do, apparently, vanish when you do this. You can't do it with the casing still on the monitor, though; that'll stop you from buffing the edges and corners of the visible area properly.
Assuming you bothered to do all this, your monitor would still work fine. You'd need to use a lower brightness setting, and you'd see your own reflection in the screen more. When the room's not lit, though, anti-reflective coatings don't do a great deal.
Mini-TX

In this column, you said "There are lots of companies that sell mini FM transmitters like this, pre-made or in kit form."

I say: Do you know where I can get a pre-made mini FM transmitter in Australia?

John
Answer:
Short answer: No.
Lots of places sell kits, but nowhere in Australia seems to sell pre-built general purpose micro-transmitters. I think this is because Australia has silly ultra-strict power restrictions for unlicensed FM transmitters, so kits are sold with a stern warning that using an antenna of length X is legal but one of length Y is terribly wicked and you must never do it.
Once you read the instructions between the lines, you can build an evil illegal transmitter that's actually audible from one end of your house to the other (!!). But companies selling pre-built units have no such luxury; out of the box, the rules only let them sell transmitters with miserably low output.
That's my guess, anyway. Even the car-radio places in Australia don't seem to have the things, although mini transmitters are quite useful for getting sound from some random audio-output device through your car speakers when you don't have a tape deck to use one of those kinds of adapters in, or a line-in on your car stereo.
Sorry about that. I'll keep looking!
If you're looking for FM transmitters with integrated microphones - FM "bugs" - check out Talking Electronics. They're Australian, and have lots of kits, but also a couple of transmitters with, I'm told, genuinely good range - as opposed to just a big but totally unrealistic range number on the box.
Electromagnetism

After reading your piece on magnets, I was hooked. I pulled apart an old 2Gb drive I had kicking around (I knew it'd come in handy some day!) and acquired my very own amusingly powerful magnet. After weeks of senseless playing (a stage I'm sure you also went through...) I had a rather interesting idea. What else can one of these magnets be used for?

My brain answered.

(Sorry about the pic quality - I have a Kodak DC3200 that's getting on in years and the world isn't too bright at 11PM)

(And yes, I know that extra bit with holes isn't part of the magnet... but you have to admit, one of these magnets is a heck of a lot safer with one side protected, it's a good handle in case it gets stuck to something awkward... and I'm darned if I have the strength to detach it anyway!)

I know it's a pretty simple idea and all, but if you have a spare magnet (weirdly enough, rare earth magnets are most likely to be sitting around my house, so that's what I use...), spare LED with decent output (yes... I happened to have a nice big high-intensity blue LED sitting around...), and a couple of AAs (ashamedly, spares for my mouse), this sort of thing makes a fairly decent nightlight. In my opinion.

Thought you might like the idea, since you like these magnets so very very much!

Tim
Answer:
Heh! This is actually quite practical, as an impromptu battery holder. You could use a couple more magnets to clip wires onto the tops of the cells. I may well find a use for this idea myself!
I Am Not Making This Up

My name is [redacted], and I am a student from Leeds Metropolitan University in England. I recently read your article on why black computers are faster, but I am still confused, and would appreciate if you could explain to me (in dummy terms) why exactly black computers are faster? Is it just because computrons move faster when they are heated? Is that pretty much all I need to know? Would appreciate if you could clarify!
Answer:
Computron heating almost covers it, but the influence of errons and bogons should also be considered.