Atomic I/O letters column #18
Originally published in
Atomic: Maximum Power Computing
Reprinted here 1-Mar-2003.
Last modified 16-Jan-2015.
H4XX0Ring your own B0XX0R

I've lost my admin password for Windows XP. Is there a backdoor password or something? I don't want to waste my money on computer technicians to fix it for me.

Howe
Answer:
You need to recover the SAM file and crack it, or just insert your own new password hash into it. Who cares what the admin password was; it can be whatever you like!
Everybody should know how to do this, not because everybody actually needs to crack WinNT/2000/XP password files, but because it teaches you how totally screwed you'll be if someone wants access to your supposedly secure data, and has physical access to your PC.
Oh, and it also shows you how hilariously fast you can crack a lousy password.
There are lots of places where you can read all about this; try here, for instance.

L0phtCrack 4. It hungers for your password hash file.
Note: People who just want to be thought of as a dangerous technical bad-ass in the office don't need to bother reading this stuff. Just writing "XP admin PW cracker" on a floppy disk and leaving it on your desk will do.
Pushing a P4

I have a P4 1.6AGHz processor, and was wondering which would be the best method for overclocking it with a VIA P4XB-M motherboard. I think this motherboard supports manual changes to the clock frequency and the multiplier, which would be better to change?

I'm using PC-2100 DDR RAM and an AGP 4X graphics card. Will increasing the FSB to 133MHz affect these components?

Kek
Answer:
The CPU's Front Side Bus (FSB) frequency is what you should change, because that's all you can change. Like all other retail Intel CPUs since the steam-driven days before the P-III, your P4 has a locked multiplier, so changing the multiplier setting will achieve nothing.
Since your motherboard lacks the ability to independently set frequencies for the CPU and other buses (well, that's what the manual I just downloaded says, anyway), increasing your CPU's FSB speed will increase the bus speed for your other components by the same amount. They'll tolerate some amount of overclocking, and may not even be the limiting factor; since your motherboard doesn't have CPU voltage adjustment, it's possible you'll run out of CPU overclockability before you hit the limit for anything else.
Mouse modding

After a failed attempt at a mouse mod (cheap spray paint rubs off) I found it was time to buy a new mouse. At a local swapmeet I noticed a optical with a blue plastic rim, and I thought it might be a new blue light optical mouse. WOW, what do ya know? It was the plain old red crap! After that I have become rather intrigued with modding it to a blue type. Without knowing any of the internal workings of the mouse I was wondering - can I just replace the red light with a blue one? Or do I have to drown out the red with additional blue lights?

Sean

A blue-glowing mouse. Easier to make in Photoshop than in the real world.
Answer:
Surprisingly enough, you probably can just swap in a blue Light Emitting Diode (LED). All you have to do is unsolder the high intensity red LED the mouse uses to light up the surface under its little camera chip, and replace it with a blue one, which you can buy from any half-decent electronics store. If you get the new LED the wrong way around it won't light up, and there are of course many things you can destroy once you start poking around inside your mouse with a soldering iron. But if you've got some basic soldering skillz, you should be fine.
Blue and red LEDs need different voltages for a given current flow, but you can usually just swap a blue one in where a red one was and get an OK amount of light.
Some mouses don't work right after this mod, presumably because their optical pickups don't have good sensitivity to blue light or can't focus it properly. But quite a lot of mouses seem to deal with the change just fine, as long as there's a decently contrasty surface under the mouse for it to look at.
Mouses that have translucent red baseplates - like Microsoft's IntelliMouse Explorer series - won't look great with blue LEDs, because not much light will make it through the red plastic. If you've got a mouse with grey or blue translucent trim, though, it'll probably glow brighter with a blue LED than with a red one.
And if you've got a mouse that has extra LEDs used just for decoration, then you can replace those extras with anything that'll run from about the same voltage and current, without affecting the mouse's performance at all.
Wondering about wireless

Ok, I read the wireless feature in Issue 19 of Atomic and got all excited.

"Oh my various gods! I could set this up between here and my friend's house, right now! I could best him in JK2, but then interfere with the connection afterwards so we can't play HOMM4! Also, I wouldn't have to lug my old 1Gb hard drive around there every time he needs the latest patch/mp3/freeware app."

So I checked the links provided and the idea began to lose some of its steam. I came away with more questions than I started with. Namely:

1. Although I'm fairly sure I can see his house directly from my window, there are 3 power lines and the odd tree crossing the view. Is this going to affect the quality of the signal?

2. We are in a small town on the mid West coast. Hence there are no local meshes made up of helpful individuals around here, unlike Perth for example. Is wireless really the best option for this sort of point to point networking?

3. The costs for 802.11b network cards don't seem too bad, but the messing around involved with setting up and or making dishes/antennae seems a bit much. Is there a simpler way for us lazy folk?

4. Will the government be able to monitor our traffic? Just in case we happen to transfer some highly confidential "educational" materials. Not that we would, of course.

Tom

Homebrew 802.11b antennas are easy to build. Here's one I made earlier, from a colander and three coat hangers.
Answer:
If you've got line of sight to your destination and you're within, say, potato-cannon range, then you won't need super-fancy antennas, though you will need something better than the little "rubber duckies" that come with many WLAN cards. This, of course, means that you should buy cards that have a proper antenna socket on them, not ones with the antenna built into the card.
A power line or two won't be a problem. Trees are a problem, though; 802.11b uses the 2.4GHz spectrum, which is eaten quite efficiently by anything with water in it. Trees, people, monsoons; all pretty much opaque. One straggly little sapling shouldn't be a problem; Sherwood Forest definitely would. You pays your money and you takes your chance.
Is a WLAN the right solution? Pretty much, yes. People have been known to do naughty things like run network cables through drains, and hobbyists have been fooling around with radio modems and laser links and so on for ages. But commercial WLAN gear with simple homebrew directional antennas is now a straightforward enough proposition that you don't have to be a propellorhead to make it work, over moderate distances.
If you don't want to make your own antennas, you don't have to. Just spend more money. There are lots of plug-and-go 2.4GHz directional antennas on the market, and you can get a fair few of them here in Australia.
Tin-can directional antennas really aren't hard to make if you just follow someone else's recipe, though. Check out the Antenna category here for some Australia-specific info.
If you can make a water pipe out of an Orchy bottle, and you can't make an 802.11b antenna out of a Pringles can, particularly since there can be some common materials involved, then I want to know why.
OK, maybe it's got something to do with the water pipe. Never mind.
Will The Man be able to monitor your traffic? That depends on what sort of traffic it is.
Set up a vanilla WLAN with authentication by just the basic Service Set ID (SSID) and channel number, and any schmoe passing by can unfold his iBook, passively sniff your traffic to find the connection data in seconds, and then be as connected to your LAN as he would be if you'd hung a 100BaseT lead out of your window for his convenience.
Wired Equivalent Privacy (WEP) is the better-but-still-not-good WLAN security system that's supported by everything half-decent on the market today. Unfortunately, it's defeatable by anybody willing to record some of your network traffic and analyse it later, or just sit on a hilltop pointing a high-gain antenna at your house and do it live. It takes a while, but they won't need a supercomputer.
For serious security you'd have to implement a system like IPSec or NoCatAuth, that seriously encrypts everything sent over the airwaves. You're not going to be doing that, on your simple Windows network. You could use the Virtual Private Network (VPN) features in the current Windows flavours, but you'd want a couple of dedicated boxes to handle it properly.
Now, if you use Win2000 or WinXP on every box that shares anything with the network, and set up proper password-protected user accounts, and don't run 362 P2P servers and stick up signs on telegraph poles that say "G37 Y0 W4R3Z H3R3", then your network resources should be safe. It's not as if the BSAA is trundling around the country in detector vans.
But if you want really serious security, then no, you're not going to get it from an ordinary WLAN setup.
CD-RWon'twork

I bought a Toshiba laptop (Celeron 1.2GHz, Windows XP) and wanted a CD writer, so I went out and bought a PCMCIA FireWire card, an external case and a Liteon 32x10x40 CD writer.

After a short hardware assembly session, I plugged in the PCMCIA card with the external writer attached to it and the notebook recognised the PCMCIA card and the presence of an external CD drive, however when I click on the properties of the drive, it doesn't state that it is a CD writer.

I installed Nero Burning ROM, which came with the writer, and restarted my computer. When I tried to load Nero, the program stopped responding at the screen where it says something like "Initialising SCSI/IDE Device".

I am really desperate and would be really appreciate it if you could solve my little problem.

Ethan
Answer:
Not only does WinXP not recognise the writer - you'll probably find that no other Windows flavour will work with it, either.
Some external IDE-to-FireWire boxes do this. There is no cure that I know of. Whether a given FireWire box will have this problem or not depends, I think, on the bridge hardware the box uses - the chip that does the command language translation.
All of these boxes, even the oldest and cheapest and crustiest of them, will work fine with a hard drive, or a CD-ROM drive, or even a CD writer, as long as you're only using the writer to read discs. But only the better external boxes will let you use a CD writer properly.
What are "the better external boxes"? Search me.
I gave up reviewing the things after the second time a distributor swore up and down that this one would work, but it didn't.
If you go to the computer shop and see an external box working with a CD writer, buy that box. If you don't, don't.
Return the box you've got. If you told the dealer that you wanted to use it with a CD writer, then you've got an airtight case for a full refund, not just an exchange or store credit.
Frequency fiddling

I have a 20 inch Sun multi frequency monitor, which I recently got fairly cheap. The problem is that it only supports a limited number of resolution and refresh rate combinations. This is no problem for the Windows desktop, because I can change those settings in the Display Properties. The problem is that some games change the resolution or use the default refresh rate, which scrambles the display on this monitor.

Is there any way I can specify what refresh rates to use at any particular resolution, independent of how or what program changes the resolution? I am using a GeForce3 with 64Mb RAM, and the latest drivers.

Simon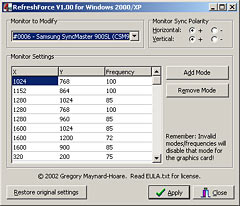 Microsoft couldn't get refresh rate control right in Win2000 and WinXP, but you can.
Answer:
Yes, this problem is soluble. It depends on which Windows version you're using, but if you've got this problem, I presume you're using Win2000 or WinXP, because Win2000 introduced this particular piece of Microsoft brilliance, and WinXP hasn't cured it.
RefreshForce or the older RefreshLock will solve your problem.
What's that sucking sound?

I am a big fan of SETI@home. As a result of this addiction, I have accumulated four PCs to run SETI on. These PCs are left running 24/7 in my home prefecture and so far nothing has burned down. Just the other day though, the electricity bill arrived and surprise, surprise, its higher then a kite.

Instantly the parents blame me and my flagrant use of electricity, but I am wondering if the blame lies on me or not. I think two of the machines have 250 watt power supplies, one has a 200 watt, and the other has a 350 watt. But surely these machines do not consume all that power ALL the time?

Darrkon
Answer:
No, they don't. The PSU rating is the total amount of power the PSU can deliver when it's fully loaded. It's like engine power ratings; your car may have a 150 kilowatt engine, but you're not using 150 kilowatts while you trundle around the supermarket car park.
Well, OK, if you like your handbrake and hate your tyres, maybe you are. But let's continue anyway.
A PC that's turned on but has the monitor off - the standard configuration for boxen chugging away all night to make people's distributed computing scores look more studly - will consume more power if its CPU is busy than if it isn't. The CPU will, of course, be busier if you're SETI-ing or Folding or OGR-calculating than if the machine's just waiting to receive faxes, or something.
The exact difference between idle and busy is hard to calculate without putting an ammeter on the power cable. An idle CPU doesn't consume zero power, power consumption varies depending on the processing task, and maximum processor power consumption varies widely depending on the type of processor. 15 to 50 watts of difference between idle and busy, for modern machines, is a plausible range.
On top of the CPU power consumption, there's the power consumed by the motherboard and video card and drives and so on. That'll vary from around 50 to around 100 watts, depending on what you've got in the box and what it's doing; spinning down your hard drive(s) will help, but not enormously.
What all this means is that yes, your PCs have a real impact on your power bill, assuming your household doesn't contain too many electric kilns or arc welding shops.
If your power tariff is an unremarkable Aussie $AU0.1068 cents per kilowatt-hour, and your four computers are consuming an average of 100 watts each, then they're costing a hair more than a buck a day to run, between them.