Atomic I/O letters column #164
Originally published 2014, in
PC & Tech Authority
(in which Atomic magazine is now
a section
)
Reprinted here April 13, 2015 Last modified 13-Apr-2015.
Praise the sun!

I just read the letters column in which you gave your verdict on suspiciously cheap eBay USB crank-handle chargers (not very useful, not very dangerous, fun!).

I note the person who sent the letter also mentioned USB solar panels - not solar-charger batteries, just little solar panels with a USB socket coming out of them. I also note those sell on eBay for only about $5.

So my question is obvious: What about those? Useful? Dangerous? Fun? All of the above?

E.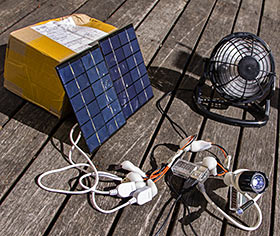 I hope you people appreciate how much SCIENCE!! I do for you.
Answer:
I love how USB is turning into an ad-hoc low-voltage gadget standard. Little USB lights, fans, speakers, lousy audio adapters, chargers, FM transmitters, cup-, hand-, foot- and hamster-warmers, battery packs, dynamos... and solar panels.
So I bought a couple of the panels, and tested them.
I got two of the "2 watt" ones, which sell for about $10 Buy-It-Now, or less if you get lucky in an actual auction. They're thin and light hand have a smaller footprint than a paperback book, so are feasible to carry around everywhere.
As with the crank charger, these things do not seem likely to blow anything up. In bright sunlight they output a little over seven volts into no load, but that's unlikely to hurt any USB devices and, at any rate, falls to five volts or less whenever something asks the little panel for some actual power.
Also as with the crank charger, though, there's no guarantee that these panels will work with any particular USB device. Completely "dumb" devices like a simple DC-motor fan will almost certainly run fine; I have a couple of USB fans of this type that draw an almost perfect standard-USB 2.5 watts from a five-volt computer USB socket, and each of the solar panels will run that fan at a tolerable speed from even moderately overcast sunlight.
Behold: The sun that heats you up can also cool you down!
But a small Android phone that charged happily, if slowly, from the crank charger absolutely did not want to know about electricity from the solar panels. I even whipped up some socket-to-plug USB-connector multi-adapters so I could run two panels in parallel for more current - or run multiple low-power devices from one panel! - but the little phone still wouldn't go into charge mode, though the same two-wire power-only USB cable charged it fine from a computer. A Kobo e-book reader charged happily from one or two panels, though - two panels giving full basic-USB charging speed, in good sunlight.
And, more practically, a USB battery pack of this model that does charge everything I've tried it with will also receive charge from a solar panel, at a perfectly acceptable 150-odd milliamps in unremarkable sunlight. So you charge the unfussy battery pack from solar, and you then charge fussy stuff from the battery. Done.
You won't be charging anything without reasonable sunlight, of course, but given that you can leave a solar-charging setup sitting there for a few hours (try not to leave the thing being charged heating up in direct sunlight too...), one of these "2 watt" panels actually is a practical charging option for any USB device that'll deign to accept electrons from it.
The solar panels also, like the little crank charger, make a neat science demo. I know that a "solar flashlight" is a punchline, but the extreme efficiency of underdriven LEDs means just about any USB-powered LED lamp will light up from surprisingly little light falling on the solar panel. This is of course not actually much use for anything, but it's great for demonstrating the technology, even at night - just hold the panel near a lamp and it'll light LEDs!
People saved a lot of files on January 1, 1970

For a while either my computer had the wrong date set, or a utility I used to batch-process my photos messed up the date. However it happened, I now have a couple of hundred photos in my collection, AND MY BACKUPS, that are all dated January 2000. I relied on the date to find photos from particular events among all the indistinguishable IMG_XXXX filenames, and now that's all messed up.

I've noticed that the FILE dates on the photos are fine, though. Both "Date" and "Date Modified" have the right date for all of them. My photo indexing thing only looks at the EXIF information, though, and that's wrong.

Is there some way to copy the system date into the EXIF information, without individually editing every photo?

Jacob
Answer:
Matthias Wandel's "jhead" is a command-line program that can do this, as well as various other EXIF twiddling. The somewhat more opaque ExifTool can do it too. (They can also both do the opposite - copy the EXIF timestamp to the file time.)
Why does Skyrim crash to desktop before even making it to the game menu if I have a random selection of my zillion mods enabled? [Pics attached, which I hybridised into one tall skinny monster.]

This is a new computer, but I'm using the same old Steam directory on my data drive. I don't think I've changed anything. When I looked online for help I found a load of stuff about blanking the .ini files, making sure you're running with the right account security to modify files, getting Steam to "verify integrity of game cache"... none of which seems to help. Start launcher, click "Play", then I get the initial video and theme tune, but if I click the mouse to go to the main menu then it's straight back to the desktop. Help!

Sara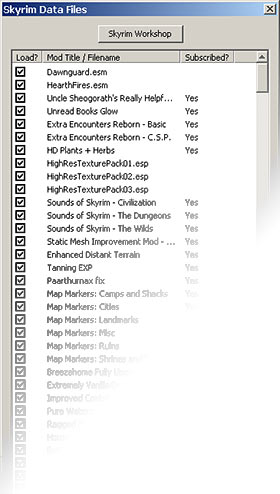 For some reason Really Useful Dragons and Schlongs of Skyrim (NSFW...) aren't on this list.
Answer:
My eagle eyes and long painful familiarity with the way Bethesda games do things allowed me to detect that you don't have Dragonborn.esm, the game resource file for the Skyrim DLC of the same name, selected in your data-files list. You've got the other DLCs Dawnguard and Hearthfire (which for some reason has the filename hearthfireS.esm...), but Dragonborn is sitting unselected down the bottom.
In games that use Bethesda's developing series of Morrowind/Oblivion engines - meaning the last few Elder Scrolls games and the 3D Fallout games - DLCs and most mods are all just data files, .esms and .esps in the game's Data subdirectory and hence data-file list. These files can be selected and thus used by the game, or not selected and thus ignored by the game, as if they weren't even in the Data folder.
Many mods, especially when an Elder Scrolls or Fallout game has been around for a few years, use resources from one or more of the standard DLCs. If you don't have that DLC, or do have it but, as in this case, don't have it selected, this can cause an early and mystifying crash-to-desktop. Disabling the mods that use those DLC resources will prevent the crash, but won't show you why it was happening in the first place.
Ancillary incoming call notification: $5/month

Why do mobile phones make that distinctive annoying interference noise? You know, "bip-a-dip bip-a-dip bip-a-dip", and then if it's actually going to ring a long "bzzzzzzz"... but then the interference gets much QUIETER when you answer the phone!

I've heard these noises on the car stereo, my home stereo, through computer speakers, in YouTube videos, in Skype conversations. Why is this radio noise in particular so prone to show up where it's not wanted?

Jaz
Answer:
It's been made into music, too!
Any circuit with a diode-ish thing in it can act as an accidental radio receiver, and all conductors with changing currents flowing in them act as radio transmitting antennas. Result: Interference, between all sorts of different electrical devices, from power cords to particle accelerators.
Most sources of radio interference aren't actually meant to be broadcasting anything, and aren't very good at it. But mobile phones are made to emit electromagnetic energy. Despite their tiny antennas, they have to make themselves heard to a cell transceiver that's probably quite distant. A phone also has to periodically check to make sure it can hear the cell antenna in return - otherwise it won't know about incoming calls.
The reason why you hear phone-signal noise through random other electronic devices is a combination of the relatively high power of the phone's transmitter, and the lousy shielding of those other devices. Device manufacturers can get away with bad shielding most of the time, since most people don't live next door to military search radars or arc-welding shops. Your computer speakers may hum noticeably if you put them right next to a PC with no case on it, but most people don't do that, so they can get away with it. And government electromagnetic-radiation regulations require only that devices survive incoming interference, not that they refrain from making an annoying noise in response to it.
The reason why the periodic "bip-a-dip" you hear at seemingly random moments is so loud on devices that're susceptible to interference is that the phone is checking in with the local cell at something close to its full transmit power, to make sure the cell tower can hear it. The long "bzzzzz" of the initial digital handshake occurring between phone and cell tower when a call connects is, similarly, conducted at high power. Once that's done, though, the phone can usually step its power way down to save its battery, because it's figured out how quietly it can talk and still be heard by the cell. If you're in a difficult reception area and the phone has to stay at full power, the interference will stay at full volume too.
(Interference from modern cellular and home cordless phones never sounds anything like the actual human voices involved in the phone call, by the way, because for years now wireless phones have all been digital, not simple analogue transceivers that an ordinary radio could tune to. In the olden days, anybody with a scanner could listen in on home-cordless-phone or mobile-phone conversations, and butt in with their own voice if they had an appropriate transmitter. Today, analogue radio systems susceptible to such shenanigans are much harder to find.)
This interference problem can be completely cured by simply wrapping your phone in radio-blocking aluminium foil. But the practical effect of this is the same as the somewhat cheaper option of just turning the phone off.