Lian Li PC-42 and PC-65B PC cases
Review date: 23 February 2002.
Last modified 03-Dec-2011.
Lian Li, purveyors of drool-worthy PC cases to the gentry, have a pleasing policy of plugging gaps in their range.
They make black versions of cases previously available only in light colours, for instance. And versions with a window, side, overclocked PC components for the showing off of, one.
I've checked out a few such cases recently - windowed and black versions of the tower PC-70 here, for instance, and the PC-30 and three PC-6x midi-tower variants, here.
Well, I've now seen another one of these minor-variant cases - but it's a nice one. It's the PC-65B, and I'll get to it in a moment.
First, something completely new.
Pocket-sized PC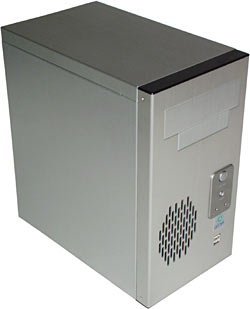 The PC-42 has a higher model number than the PC-30 series cases, but it's smaller. Quite a lot smaller. It's only 341mm high by 189mm wide by 320mm deep (13.4 by 7.4 by 12.6 inches).
How small is that?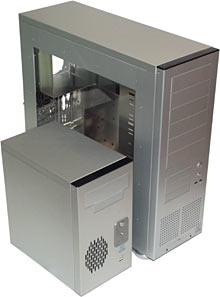 Well, here's a PC-42 sitting in front of a PC-75.
You can get even smaller cases than this (like the Book PC I review here, for instance), but if you want something that can accept a variety of motherboards and a few standard-size expansion cards, and won't jam all of the components together like sumo wrestlers riding the Tokyo subway in rush hour, then the PC-42 is about as small as it gets.
The PC-42's price is small by Lian Li standards, as well - only $AU275 including Sydney metropolitan delivery, from Aus PC Market here in Australia. That's not a bargain price compared with practically any steel computer case, but for a hard-anodised brushed-aluminium unit with a number of convenience features, it's pretty good.
What convenience features, I hear you ask?
Well, for a start, there's a proper slide-out motherboard tray. Which is retained, like everything else in the PC-42, with Lian Li's trademark shiny thumbscrews.
Motherboard trays in giant cases are there to stop you from having to manhandle a giant steel box around when you need to perform major surgery. You can practically juggle the PC-42 by comparison, of course, but the tray still makes it a great deal easier to work on the machine, by letting you get the cable mess out of the way and avoid barking your knuckles on drives.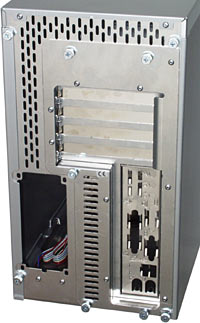 The back of the PC-42 has a distinctive layout - only four slots, funny flat rectangular power supply mounting point. This means that this is a case that can only accept microATX or FlexATX motherboards, and which uses an SFX power supply. This restricts what you can install in the PC-42, but not as much as you might think; more on that shortly.
Note also the generous quantity of vent holes. This case is too small for Lian Li to pack their usual multiple extra fans into it, but that doesn't mean it can't be well ventilated.
The PC-42's front panel is held in place with quality no-rattle plastic clips, and it's easy to pop it off. Underneath, you can see the single 80mm intake fan (which, unlike the dual fans on various other Lian Lis, has no dust filter), the electronics behind the two front USB ports in the bottom right corner, and the drive bays. This teeny case has one 5.25 inch bay and three 3.5 inchers; the 5.25 and one of the 3.5s have front panel cutouts, and you get a hole-filling blank for both of them, in case you want to make a machine with only one externally accessible drive, or with none at all.
There's no speed control switch for the PC-42's front fan. Many other Lian Lis have a three-step speed controller, but this fan just runs from a normal three-pin lead that you plug into a header on your motherboard, or into an (optional) adapter so you can run it from a four pin PSU power connector.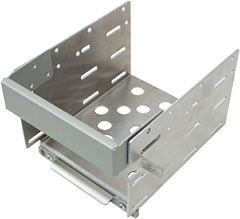 The 3.5 inch bays are held in place with four thumbscrews. It's easy to remove the drive cage, and it has the Lian Li's usual manufacturing accuracy. So it shouldn't be pinched in by one drive so that you can't install another one without loosening screws.
Slide off the PC-42's side panel and... well, there's not that much to see, really. Lots more shiny aluminium, of course, the PC speaker on the bottom panel, and the front panel cables.
The regular front switch and light cables are, according to another Lian Li tradition, provided with a connector in the middle that lets you unplug and replug them easily when you remove the motherboard tray.
The cables for the front USB ports, though, don't have this middle connector. This is another recent Lian Li tradition; none of their front-ports cases have a mid-cable connector on the USB wires.
The USB cables are split into several one- and two-wire plugs, made necessary by the different possible pinouts of the motherboard USB headers into which you have to plug them. You'll need to look up your board's USB connector pinout in order to make the front ports work.
On the bright side, at least pretty much every current motherboard out there can connect to two extra USB ports. All of the bigger Lian Li cases with front USB ports have four of them, but two can't be used with a lot of motherboards, because there are no headers for them.
The front panel, by the way, has these fake carbon fibre trim strips at the top and bottom, just like various other Lian Lis. It's just a gloss-coated paint effect on plastic, but it stands up to quite close scrutiny. This is a classy looking little case.
It is not, however, a case that comes as standard with a power supply. Or a motherboard, of course. Since you need an SFX PSU and a microATX or FlexATX mobo, you're not likely to have either item just sitting around.
Aus PC can, of course, sell you bits for the inside of your PC-42 as well as the case itself. They'll have a combo up shortly in their case listing, probably with a 180 watt AOpen SFX12V PSU. They've only got a 150 watt SFX PSU on their shelves as I write this.
That's a better than the average, since many SFX PSUs have a 145 watt rating and the usual fuzzy figures abound in the cheaper units - see this review for more on how PSU specs can mislead you. But even a genuine 150W PSU may or may not be able to power the more interesting microATX boards, if you decide to go all out and build an Athlon XP teeny-PC with a hot video card. MicroATX P4 boards say in the spec that they need an SFX12V PSU.
If you'd like the all-that-and-a-very-large-bag-of-chips-with-salt-and-vinegar-and-tomato-sauce version of the PC42, Aus PC's "Nano PC" combo should suit you quite nicely. It's aimed at people who want a ready-to-go all-purpose tiny-box that can hold its own at a LAN party as well as do more mundane tasks, and it includes the PC-42, a PSU, and an Abit NV7M Nvidia nForce motherboard with integrated video (between GeForce2 MX200 and MX400 performance), audio and network adapter. Plus a 1.1GHz Duron CPU with cooler, an 80Gb Western Digital hard drive, an AOpen CD-RW drive, a floppy drive, 256Mb of PC2100 DDR RAM, and Windows XP Home Edition.
You get this little lot, assembled, for $AU1980 delivered.
You can pay considerably less for a PC42-based PC, of course; nForce boards are not the bargain hunter's choice in the everything-integrated segment of the motherboard market. If you want a hot buttered video card in your baby PC, then you'd do better to buy some other microATX Socket A board, because there's no point paying the premium for an nForce graphics adapter that you're not going to use.
And if you only want to run 2D applications, there's once again no reason to pay for the reasonable 3D power of the nForce; for less than two thirds of the NV7M's price you can get a Via KLE133 chipset board like the AOpen MK73LE; it doesn't have a network adapter built in, but that's not a big extra expense if you need it. Quality all-in-one microATX Socket 370 boards can be had for even less.
And now, the less revolutionary case.
Which is still pretty cool, mind you.
Both kinds of music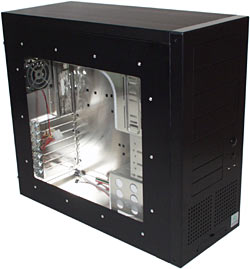 I've seen a black PC-60, and I've seen a PC-60 with a window; I reviewed both of them here. The PC-65B combines the two.
Brushed-texture hard-anodised matte black on the outside, with a factory-fitted side window. You can buy a PC-60-sized window-panel as an optional extra, but it's got the plain brushed aluminium finish, so it looks lousy on a black case. The PC-65B solves that problem.
The window's retained in the same way as the ones on the other windowed Lian Li cases; solid aluminium clamp-plates on the inside of the panel, retained with pop rivets. The rivets are left in their natural silver finish with the heads showing around the window on the outside of the case; they look quite nifty in a vaguely S&M-ish way, if you ask me. You can colour them in with a black marker, if they offend you.
Apart from the finish and the window, this is just another PC-60-series case, with the same excellent basic features as the current PC-60USB and PC-65, among others.
Slightly oversized midi-tower dimensions, twin front speed-controlled fans, one rear fan, motherboard tray, four 5.25 inch bays and eight (!) 3.5 inch bays, removable middle and bottom 3.5 inch drive cages, front USB ports, thumbscrews everywhere, easy-access PSU mounting plate, no sharp edges, high intensity red and blue LEDs for the disk access and power lights, very good fit and finish. The usual deal.
For the PC-65B, without a power supply, you'll pay $AU390.50 including Sydney metro delivery from Aus PC Market, or $AU110 more if you buy it with a 300 watt AOpen PSU pre-installed. That's only about ten bucks more than the plain-silver PC-65.
Most floppy and CD/DVD-ROM drives, of course, have beige front panels and so won't match the PC-65B very well. They don't look that fabulous in the silver Lian Lis either, to tell the truth, but they're much worse in the black ones.
A few black cases, like the one I review here, have a built-in way to deal with that problem. But the PC-65B doesn't. Various computer dealers, including Aus PC, stock black-fronted drives; if the drive you want doesn't come with a black front, though, then you'll be visiting case-mod land if you want to make it match.
Overall
The PC-42's not a product for everyone, but it's got a definite niche, and fills it well. It'll fit in anywhere, both physically and aesthetically, and you can build a meek little Celeron system into it, or make a pocket-rocket party box.
Most of the world's PCs have multiple drive bays and expansion slots that'll never be filled; if that's the sort of system you're going to be building, you might as well not bother with the extra bits in the first place. Use a PC-42 and you'll end up with a groovy looking PC that you can quite easily fit in a backpack.
The PC-65B, on the other hand, is squarely aimed at the personalised-numberplate set. Not many business users want to see inside their PC.
If you've been hanging out for the PC-6x-series Lian Li that has ticks in the "black" and "window" boxes on the spec sheet, though, then here that sucker is. Dig in.
No Lian Li case is ever going to appeal to the mass market - well, not until the price more than halves, anyway.
Those who want something well designed, well made and really good looking, though, are happy to pay the premium.
Recommended.
---
Lian Li's page for the PC-42
(they don't have a page for the PC-65B yet)
---
Buy one!
Readers from Australia or New Zealand can purchase Lian Li cases from Aus PC Market.
Click here!
(if you're NOT from Australia or New Zealand, Aus PC Market won't deliver to you. If you're in the USA, try a price search at DealTime!)
If you're looking for Lian Li cases in the USA, JCL is a major distributor.