Lian Li PC-602 computer case
Review date: 14 June 2002. Last modified 03-Dec-2011.
Lian Li's brushed-aluminium PC cases have become an unofficial standard for enthusiasts and businesses who want snazzy looking PCs that contain the components of their choice.
If you want to fill a whole office with Lian Li-cased computers, though, it's not gonna be cheap. Home users who want a computer that'll impress their friends as being very conclusively not at all beige are, similarly, likely to balk at Lian Li prices.
The PC-5 and PC-6 cases (reviewed here) come in under $AU200 without a power supply, but they don't have the groovy brushed-metal finish. Until recently, if you wanted a midi-tower brushed-metal case from Lian Li, you had to go for the PC-60USB (reviewed here).
Well, now there's another option - the PC-602.
This case still isn't what you'd call cheap, at $AU286 without power supply (including Sydney metropolitan delivery from Aus PC Market). But it's cheaper than the PC-60, and it's not far behind it on features.
From the outside, the PC-602 looks like a mildly modified PC-60. Which, essentially, it is.
It's got the same four-plus-three external drive bay layout, it's got the same little flip-down door over the four USB ports at the bottom of the front panel, and the switch and light layout's the same, too.
The front panel has the same good-looking fake carbon fibre trim as the other PC-60 variants, but now the panel's bevelled on the sides. Otherwise, it's identical.
Remove the front panel (which is held on with Lian Li's usual high quality no-rattle clips) and the similarity continues. The bay covers are the neat clip-in type, the 3.5 inch drive cradle can be removed after you undo three thumbscrews, and the twin 80mm front fans are covered with a removable foam filter. All this is standard PC-60 fare.
The only thing missing is the speed control switch for the fans - there are holes where it could be, but there's nothing there. So these fans run at full power all the time, if you don't use some other speed controller on them.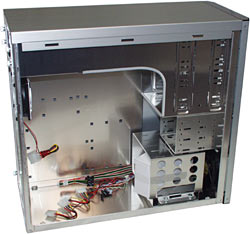 Remove the side panel, and the PC-602 still looks very PC-60-ish.
The bottom 3.5 inch drive cage behind the front intake fans is the same five-slot unit that you get in current PC-60s, so the total bay count is the same - four 5.25 inch, eight 3.5 inch. And the bottom bays are of course removable, and there's the same bushing strip on the couple of edges that might otherwise bite you, and there's the same pre-installed 80mm rear exhaust fan, complete with nifty stamped aluminium grille. The front USB ports have the usual multi-tiny-plug connectors, which you may or may not be able to attach to your motherboard, depending on what USB connectors your motherboard provides, and also depending on how savvy you are.
Everything's attached with thumbscrews. Practically everything that isn't a thumbscrew is made out of aluminium.
Which means, by the way, that the PC-602 is really light. I keep forgetting to mention this in my Lian Li reviews. This case, like the PC-60 series cases, is a good-sized midi-tower unit - 492mm deep by 210mm wide by 450mm high. But it weighs less than six kilograms, without a PSU.
What's missing? Well, there's no slide-out motherboard tray. Most Lian Lis, even small models, have a mobo tray. It's a handy thing for computers that you have to work on often. You can live without it, though, and if you get a PC-602 you'll have to.
Because there's no mobo tray, there's also no easy one-stop connector in the middle of the case light and switch wires.
And, as mentioned above, there's no speed controller for the front fans. You just get a couple of passthrough four-pin connectors for them, identical to the one for the rear fan.
Apart from these details, though, the PC-602 is a PC-60USB. But it's cheaper.
Overall
Without a PSU, the PC-602 is $AU286 including Sydney metro delivery, which is $AU71.50 less than a PC-60USB. Aus PC also sell PC-602s with PSUs pre-installed; get one with a quality AOpen 300 watt supply (which means it actually is a 300 watt supply, not some dinky sub-250-watt bargain special with a "300 watt" sticker on it), and you'll pay $AU396.
This is still, unquestionably, not cheap. Abandon your desire for brushed aluminium and you can pay a lot less and still get a very good case. I review the AOpen H600A, for instance, here; it's got more drive bays than most people need, good ventilation, and easy-access design. And it only costs $AU187, including a proper 300W PSU.
But it's steel. And it's beige.
If you've made a resolution to fight the beige-ification of the high-tech world, the PC-602 give you a way to do it at a slight discount. It's not missing anything terribly important. It looks sharp. It's nice to work with.
You know you want one.
---
Buy one!
Readers from Australia can purchase Lian Li cases from Aus PC Market.
Click here!
(if you're not in Australia or New Zealand, Aus PC Market won't deliver to you. If you're in the USA, try a price search at DealTime!)