AOpen MT 85 microATX case
Review date: 17 March 1999.
Last modified 03-Dec-2011.
Intel's microATX standard for cases, motherboards and computers built with them was finalised in 1997, and computers using it started to arrive in the second half of 1998. MicroATX is meant to offer a "Basic PC" at a reduced price, by cutting out things that aren't needed in many machines - extra expansion slots, hefty power supplies and room for lots of drives, for instance. The result is a computer specification which is quite good enough for most business and home applications, but which genuinely should cost less, especially when a company's fitting out a whole department with the things.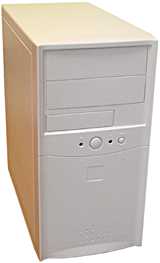 AOpen caters for the microATX market with the MT 85 case, which is refreshingly well constructed, for such a small unit.
Teeny cases are often lousy. There are zillions of awful mini-tower cases out there that have had every possible corner cut during construction, and are made out of thin, wobbly steel that's die-cut to shape, leaving sharp edges. The thin steel and slipshod manufacturing often leave them not quite square, so cards are hard to mount and pop out when the computer's moved. Sure, you save a few bucks when you buy the thing, but you get what you pay for.
The MT 85 is built to the standards of AOpen's bigger cases, which means it doesn't have the bargain price of the crummier jobs. It sells for about $120 (Australian dollars); cheaper than midi-tower cases like the HX 45 (reviewed here), but with the lower specification level, so it should be.
I've said it before and I'll say it again, though; where do people get off paying the thick end of a thousand bucks for a computer - which is what you're paying even for a microATX "Basic PC" - and deciding to save $50, at most, on the case? If you're ever going to work on the thing you want something that won't drive you nuts, and awful cases often have awful power supplies, too, which can lead to further nightmares.
Rant concludes.
What you get
So what's in the box for your $120-odd? Well, you get one (1) endearingly small case, 14 inches deep by 7.1 inches wide by 14 inches high (35.6 by 18 by 35.6 centimetres), weight 15.4 pounds (7 kilograms). The case is made from standard 1mm sheet steel, not the light-gauge tinfoil of some crummier cases, and the edges are rolled for strength and safety. It is very unlikely that installing things in an MT 85 will cause you to bleed.
The little 145 watt microATX power supply is dwarfed by a standard ATX-sized unit.
The MT 85 comes with a standard microATX power supply, good for only 145 watts (against the 235 watts that's the usual ATX standard; see the sidebar to the right for more information about power supply ratings) but equipped with a standard 80mm cooling fan. It's got two 5.25 inch drive bays, each with a front panel cutout, and three 3.5 inch bays, one with a cutout.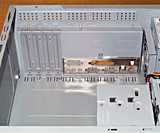 There's room for a microATX motherboard with four expansion slots, and also...
...for an optional second fan at the front. The slightly sculpted front panel has a power button, a reset button, a power and a hard disk activity light. And that's about it.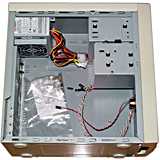 Inside, there's the usual bag of screws and doodads. AOpen is generous with the fasteners, even on a basic case like this one that doesn't actually have much need for them.
Unlike most small cases, the MT 85 has slide-off side panels, instead of the usual U-shaped combination side-and-top-panel piece. I think slide-off panels on a case this small are a bit silly, as taking the whole thing off is easy, but these slide panels, retained with the usual two screws, are very easy to remove and hold solidly when they're in place, so there's nothing to complain about.
The case comes with motherboard standoffs already affixed to the relevant panel. A nice little time-saver.
The motherboard mounting panel has the metal standoffs already attached, which is nice. The 3.5 inch bays are in the usual removable cradle arrangement, which in this case can be removed very easily by pushing down on a spring catch and rotating the cradle out. When in place, it's rock solid. This is exactly the sort of neat feature you don't get with a cheap and nasty case.
The LED and switch connectors are clearly labelled, as they are in all AOpen cases, but the case also has AOpen's standard-for-some-reason four pin hard disk LED connector, with only two pins connected. This plugs perfectly into AOpen motherboards and is no trouble with others, like my P2B, that have the two pins for the hard disk light separate so you can just plug in the end of the connector and leave the rest hanging. If your microATX motherboard has the hard disk LED pins in the middle of some others, though, you'll need to snip off the unused part of the connector.
Overall
If you're after a microATX case, you don't have nearly as many choices open to you as there are in the plain ATX market. The AOpen MT 85 would still be a good choice even if there were lots of competition, though; it's well built, easy to work with and decently priced.