Cooler Master ATC-600 computer case
Review date: 14 June 2002.
Last modified 13-Nov-2007.
Now here's an oddity.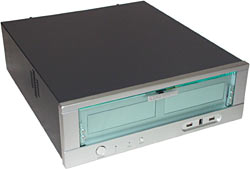 It's a computer case, Jim, but not as we know it.
Cooler Master's ATC-600 looks like a piece of hi-fi componentry. That's the idea, of course; this thing's aimed at people who want to make themselves a lounge room computer for big-screen games, DVD and MP3 playing, and so on. You could use it as a normal desktop box, but only if you've got a very stylish desk.
A computer for the lounge room hi-fi stack needs to be the same shape and size as the gear it'll be next to, and the ATC-600 meets that requirement; it's 476mm deep by 426mm wide by 145mm high. So it'll massively outbulk mini-system hi-fi components, but should fit in OK with full sized gear.
Lounge room computers, at least those that're owned by people who aren't into the my-house-is-being-assimilated-by-the-Borg look, also need to look slick. Which is to say, not like computers.
According to Cooler Master, the ATC-600's look can be summed up as "Organic Styling meets hi-tech functionality". Well, if your planet includes a lot of organisms whose bodies feature sharp right angles then I suppose that's correct, but to my eye this thing looks like a really good piece of 70's hi-fi design. No veneered sides, no weird colours, no Christmas tree lights, no super-chunky knobs; sleek and clean and timeless. The "glass" front door (which is actually acrylic, but don't tell anyone) is a bit posey, but it integrates well with the rest of the front panel, I think. Dahling.
On a slightly more practical note, this case is made of aluminium. That doesn't mean a great deal, really - OK, it weighs only five kilograms empty, but that doesn't matter much, and you don't get much better cooling from aluminium than from steel. But it won't rust, and the shiny metal makes it look really nice inside, as we'll see.
The bad news? The ATC-600 is not cheap. No Cooler Master case is, here in Australia, for some reason. Lian Li cases we can get for (comparatively) reasonable prices, but Cooler Master boxes cost plenty.
The ATC-600 will set you back $AU550, without so much as a power supply. That price is from Aus PC Market and includes delivery in the Sydney metropolitan area; you'd bleeding well want it to, wouldn't you?
For a bit less money, you can get a Lian Li PC-75, as reviewed here. That's their giant full-tower brushed-aluminium box with a show-off side window.
Never mind the price for the time being, though. If you've got a lounge room that'll do an ATC-600 justice, then I suppose you can probably afford one. Why would you want to buy it?
The details
If you want to build a red hot super-system, you're not going to do it in an ATC-600. That's because this case is made for microATX motherboards, not full ATX ones.
Mind you, you can get some pretty spiffy microATX boards these days. Aus PC recommend the Asus P4S333-VM, if Pentium 4 is your thing, and the Abit NV7M, for Socket A; they're both integrated boards with the video and audio features you probably want from a lounge room PC, and they're rather reasonably priced, for what you get. The Abit board even has a built in network adapter.
The ATC-600 does not force you to use some funny little power supply, by the way. It accepts normal ATX PSUs. Apparently the early versions of this case couldn't be used with multi-fan PSUs with a grille on the bottom, because you could only mount the PSU one way round, and the extra fan ended up pointed at the bottom of the case, a few millimetres away. The mounting hole has been revised now, though, so you should be able to mount any PSU properly. Extra fans (if any) can face upwards.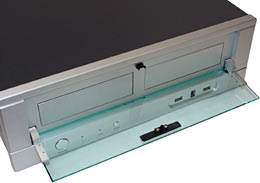 The front door on the ATC-600 has a push-close, push-open catch, and it lowers itself smoothly when opened. The opening mechanism is a simple greased-gear arrangement on one of the hinges, but it does the job, and ought to last.
This, by the way, is the ATC-600-VX1 "verdant" model, with a clear green front door. There are VX2 and DX1 models as well, with frosted green and dark grey doors, respectively.
There are two 5.25 inch bays on the front of the ATC-600, but there are no externally accessible 3.5 inchers. There are two 3.5 inch bays inside, as we'll see, but you can't get at them from the outside.
So if you want a floppy drive, you'll have to improvise - either by cutting up a bay cover to match a floppy attached to adapter rails in a 5.25 inch bay, or by using an external USB drive, or something. For a lounge room computer, though, this isn't likely to be a big issue, which is, no doubt why Cooler Master decided to make the case this way.
The front panel buttons and lights are slick and pretty. No ultra-high-intensity LEDs to annoy movie-viewers. No goofy buttons the size of your hand. Understated. Tasteful.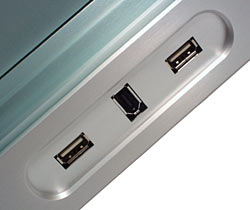 The front panel also has two USB ports, and one FireWire (IEEE-1394). The FireWire port is fed by the usual loopback cable inside; most FireWire controller cards have at least one internal connector, so the cable needn't actually exit the case to plug in.
The USB ports have one-piece plugs inside, which may or may not fit your motherboard's USB header pinout; there's more than one kind of mobo USB header. Fortunately, the ATC-600 does at least come with a sheet telling you what the connector pinout is, so you can see if it matches the pinout which is, with any luck, in your motherboard manual.
From behind, the ATC-600 looks like a pretty ordinary desktop box, except for its round, gold-edged, hi-fi-style feet.
The lid is held on with thumbscrews - a convenience feature I've come to expect from expensive cases - and is easy to remove.
Inside, there are two 3.5 inch bays, on top of the 5.25 inch ones. So, if you're feeling kinky, you can install a floppy drive without any modifications - you just won't be able to put a disk in it without removing the computer's lid.
The two bay assemblies are separate, and removable; you don't have to wrestle drives into them while they're still in the case. You'll need a screwdriver, though; this isn't a fully thumbscrew-ed case.
For ventilation, there are three reasonably quiet Y.S. Tech 60mm fans - two intake fans on the sides, one exhaust fan at the back. One of them has a three-pin connector for a motherboard fan header; the other two have four-pin PSU passthrough connectors.
If you're a silent computing fanatic - which lounge-room-computer builders tend to be - then you'll probably want to slow the fans down a bit. But they're not high performance screamers in the first place.
Installing a motherboard in the ATC-600 could be a tad tricky, because of the hefty aluminium brace across the top of the case. It's there to stop the aluminium lid from buckling if you put a monitor or TV on top of the case. I still wouldn't try my luck with a really big screen, mind you.
The brace is just screwed in place; you can remove it easily enough for easier access to the motherboard area.
Overall
Just looking at what you can put in it and what it costs, the ATC-600 gives you less case for your money than any PC enclosure I've ever seen.
But it's not competing with normal tower cases, or even with normal desktop cases. This is a niche product, and it's a good one.
If you want an entertainment-centre PC that looks fabulous and works well, the ATC-600 could actually be a good buy, despite its hair-raising price. It's got no nasty surprises I could find, its feature set is well suited to its intended role, and it really does look great.
Recommended.
---
Cooler Master's page for the ATC-600
---
Buy one!
Readers from Australia can purchase the ATC-600 from Aus PC Market.
Click here!
(if you're NOT from Australia, don't bother!)